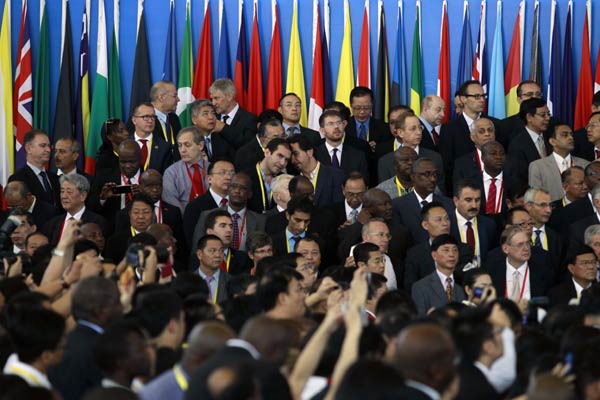 The opening ceremony gathers a number of foreign investors. Zhu Xingxin / China Daily
Foreign investments in China exceeded $1.5 trillion by the end of July, and the country will continue relaxing the restrictions on foreign investors, especially in the service industry, Vice-Premier Wang Yang said on Monday.
As the second-largest country by economic gross, China's enterprises have increasing international competitiveness and China's overseas investment was almost $100 billion in 2013, Wang said at the 18th China International Fair for Investment and Trade in Xiamen, Fujian province.
China's FDI inflow was $123.9 billion in 2013, said Qiu Lixin, deputy director of Ministry of Commerce's foreign investment department.
And by the end of July this year, there were more than 800,000 enterprises nationwide that had foreign capital investment, she said.
Statistics from the Ministry of Commerce show that tax from foreign investing companies contributed 19.2 percent of China's total tax revenues between January and July this year.
However, foreign investment into China has shown some new features this year, she said.
The foreign investment into the central and western regions has increased rapidly, $7.16 billion flowed into the two regions between January and July, a 17.8 percent year-on-year rise, and some industrial bases were formed in the regions using foreign capital, Qiu said.
"The government is encouraging foreign investors to promote China's regional economic development," she said.
Foreign investment into the service industry has also continued to rise, and opening-up service sectors, such as healthcare, was a hot topic at the fair.
China's foreign investment from the four main investor countries worldwide - the United States, the United Kingdom, France and Germany - is still very low. It only accounts for 4.5 percent among China's total FDI inflow, said Ge Shunqi, deputy head of the Institute of International Economics at Nankai University in Tianjin.
One of the main reasons is that they only can invest in a limited number of industries and have already saturated them, so they need new investment targets, Ge said.
However, the future for investment in China is still very promising, and international companies are not considering a withdrawal, Ge said.
Masataka Fujita, director of United Nations Conference on Trade and Development's investment trend department, also takes an optimistic view of China's foreign investment trends.
UNCTAD released the Chinese version of its World Investment Report 2014 on Monday at CIFIT, which showed that China was the second-largest recipient of FDI after the US in 2013.