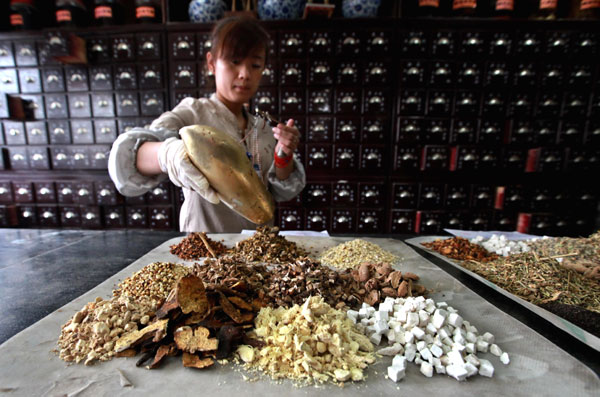 The safety of Chinese medicinal herbs is now a big concern of the country's health authorities. Dang Yun/for China Daily
Amid concerns over soil pollution and use of pesticide, the government should strengthen oversight of ingredients in traditional Chinese medicine, industry insiders suggested
"Some medicinal herb farmers are intentionally using highly toxic chemicals such as pesticides in the hope of increasing output, resulting in an excessive residue in products," Xu Shuqing, a deputy to the National People's Congress, told China Daily.
Xu, who is also chairman of private pharmaceutical company Guangxi Wuzhou Zhongheng Group in the Guangxi Zhuang autonomous region, added that deteriorating farmland and water polluted by heavy metals are also concerns.
Enterprises that produce traditional Chinese medicine have been involved in disputes with health authorities in Western countries over whether their products are safe for consumers.
Many Chinese companies have failed to pass stringent tests required by Western regulators.
Health concerns have intensified since last June when Greenpeace issued a report saying that more than 70 percent of 65 medical herbs sold in nine well-known pharmacies on the Chinese mainland, including Beijing's Tongrentang, were found to contain pesticides.
Greenpeace said it ran tests between July 2012 and April 2013 on several herbs that are commonly used in traditional Chinese medicine and found that 48 out of 65 samples contained pesticides.
A total of 32 samples had residues of at least three kinds of pesticide. Traces of six pesticides banned by Chinese authorities in herbs, such as carbofuran and phorate, were found in 26 samples.