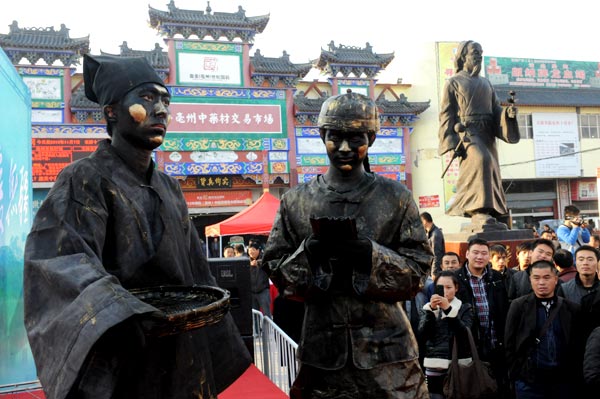 Models dressed as ancient pharmacists attract the attention of medicine dealers at Bozhou Traditional Chinese Medicine Market in Bozhou, Anhui province, on Thursday. Zhang Yanlin / for China Daily
An expert in China's natural health products has one crucial suggestion for traditional Chinese medicine-makers interested in selling their products in the United States: Know the rules.
Though TCM is slowly gaining acceptance in the US, most remedies are sold as over-the-counter herbal supplements. Experts at the First China (Guizhou) International TCM Seminar on Tuesday in Guiyang, capital of Guizhou province, said familiarity with US Food and Drug Administration regulations will help Chinese TCM companies sell their products in the US.
"The FDA has very specific regulations on the ingredients of dietary supplements, especially for TCM, due to the fact that most of the ingredients are herbs and some of them are controversial in the US," said Jeff Crowther, executive director of the US-China Health Products Association, a nonprofit organization that helps its members with their businesses in US and Chinese markets.
Crowther said customers in the US generally don't approve of traditional Chinese medicines and that TCM companies that have been successful in the US are those that sell ingredients rather than packaged TCM products.
"The only time a US citizen will take Chinese medicine is if they go to a Chinese-medicine doctor and the doctor tells them to take these herbs. Then they will take them," he said. "But if it's presented as a dietary supplement - for example, some very successful, well-known US companies can take some ingredients like licorice - and put it in a capsule for nutrition - people will buy it."
He said sales of dietary supplements in the US in 2012 were more than $32.4 billion, of which herbs and botanicals accounted for 19 percent.
He said Chinese companies should get legal consultation to learn more about FDA regulations before doing business in the US.