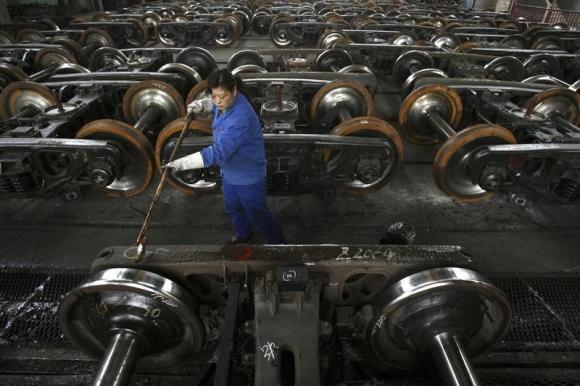 A worker paints antirust oil on vehicle at a factory in Wuhan, capital of central China's Hubei province January 26, 2007. [Photo/Agencies]
Signs of an economic revival in China have raised hopes that Beijing's targeted measures to bolster growth are having an impact but a slowdown in the euro zone will increase expectations of policy easing there.
Chinese factory activity expanded at the fastest pace in five months in May but euro zone manufacturing growth slowed more than initially thought, fuelling expectations that the European Central Bank will ease policy this week.
"The Chinese numbers were higher. We are beginning to make some progress but it is consistent with this story that the Chinese economy is not going to grow as fast as it has in the past," said Peter Dixon at Commerzbank.
"The European numbers were in and around the ballpark. It's not the kind of data the ECB is going to react to instantly but it is part of a bigger puzzle that says we need more growth in Europe."
US manufacturing growth probably accelerated in May, a report from the Institute for Supply Management (ISM) is expected to show later on Monday.
Markit's final Manufacturing Purchasing Managers' Index (PMI) for the euro zone slipped to a six-month low of 52.2 in May from April's 53.4 as strong figures from Germany failed to offset a contraction in activity in France.
The reassuring Chinese factory data and another record high for Wall Street lifted world stocks and commodities on Monday, although markets are waiting to see how far the ECB will go with policy easing plans.
Stronger China
China's official PMI, which is geared towards bigger, state-owned firms, rose to 50.8 in May, from April's 50.4, the National Bureau of Statistics said on Sunday, beating market expectations of 50.6.
"Recent pro-growth measures, which were stepped-up further last Friday, may have lent a helping hand here," said Nikolaus Keis at UniCredit.
China's manufacturing data bolstered market expectations that the world's second-largest economy is regaining strength as the government's pro-growth measures kick in.
Beijing stepped up policy fine-tuning in recent weeks and has unveiled a slew of measures this year to help shore up the economy.
China's cabinet announced new easing measures on Friday to help lower funding costs and reduce operating burdens for companies to give more support for the real economy, adding to moves that included hastening construction of railways and public housing.
In South Korea, Asia's fourth-largest economy and one of the leading manufacturing and export powerhouses, the HSBC/Markit manufacturing gauge slid below 50 while trade data showed exports fell.
In India, the manufacturing PMI edged up but came in slightly below the median forecast in a Reuters poll. Indonesia's PMI surged to a record high but hopes were tempered after its trade balance slipped back into deficit in April after two consecutive months of surpluses.