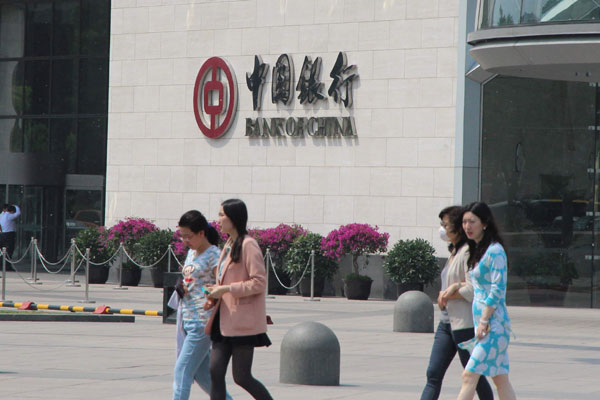 Four women walk in front of the headquarters of Bank of China in Beijing. China's banking industry still has opportunities in the long run as the fundamentals supporting the country's long-term economic growth remain unchanged, according to a China banking industry report issued by Ernst & Young LLP. Wang Yueling / For China Daily
Fundamental changes mean new potential for profit and growth
China's banks can embrace opportunities thrown up by the country's economic fundamentals and prospects for long-term economic growth, London-headquartered Ernst & Young LLP said in a report on Thursday.
"Industrialization, urbanization and information technology all enjoy broad development space and the growth potential will be realized gradually" once the economy restructures and industry upgrades, Geoffrey Choi, the assurance leader of EY Financial Services in Greater China, said. Commercial banks need to change strategically and "build a long-term sustainable growth engine."
Share prices of China's listed banks are extremely low and will continue to be undervalued if investors don't assess properly how banks will be hit by rising non-performing loans and weakening house prices, he said.
At end-March, the average NPL ratio of 16 A-share listed banks was 1.01 percent compared with 0.98 percent at end-December. The banks have enhanced protection against credit risk and been more aggressive in collecting and writing off bad loans to improve asset quality. The write-offs increased to 83.47 billion yuan ($13.55 billion) in 2013 from 34.13 billion yuan in 2012.
Additionally, China's interest rate liberalization is having an impact on the banks' net interest margin, Ernst & Young's report said. To tackle that, banks attempted to expand intermediary business and explored new areas for business growth.
In 2013, the average net interest margin, a main index of banks' profitability, of the listed banks dropped 17 basis points to 2.61 percent from 2.78 percent in 2012, compared with a 4 basis-point decline in 2012 from 2011.
Their fee and commission income grew 23 percent in 2013, to make up 20 percent of operating income compared with 18 percent for the previous year.
Commercial banks will embrace opportunities in investment banking, thanks to an expected increase in mergers and acquisitions growing out of economic restructuring and increased demand for underwriting and issuing of debt securities, Choi said.
Greater demand for wealth management is expected as household incomes increase, he said. That will support development of asset management services, he said.