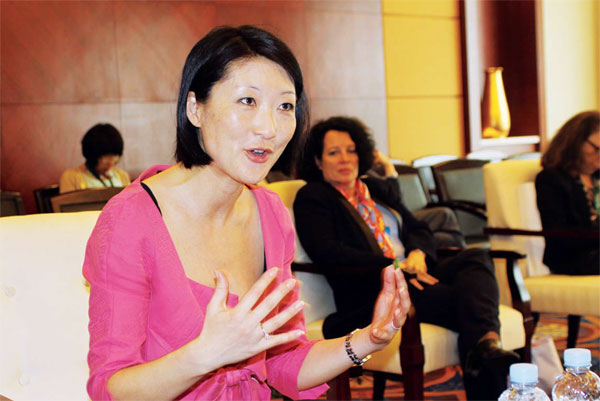 Fleur Pellerin says China and France are trying to implement a growth model based on innovation and sustainable development. Cai Muyuan / China Daily
Top foreign trade official vows to do more to attract Chinese investment
Days after she took office recently, France's top foreign trade official decided that the first country she would visit would be China. And to further underline that she means business, Fleur Pellerin, the secretary of state for foreign trade, promotion of tourism and French nationals abroad, has vowed to do more to attract Chinese investment, tourists and students to her country.
Pellerin, who was born in the South Korean capital, Seoul, in 1973, is the first person of Asian descent to become a French cabinet minister.

China's direct investment in France is a quarter the size of French investment in China, and one of her main goals is to narrow that gap, she says. Trade between France and China was worth 55.3 billion euros, and France's exports to China accounted for 14.7 billion euros.
"France is very open to investment. We have been rolling out very ambitious policies to attract more direct investment in the country, such as the key issues of giving more flexibility to the labor market, trying to stabilize the fiscal and regulatory environment for foreign investors and improving visa and work permits for foreigners."
A lot of trade between France and China is based on high-value technology industries such as aerospace, energy and electronics, Pellerin says, but there are also opportunities in other areas where innovation is important.
"The first is the green economy," she said during the Green Companies Summit that was held recently in Nanning, in the Guangxi Zhuang autonomous region. The summit was organized by the China Entrepreneur Club, which consists of 46 leaders of the country's top private companies. Green growth and green energy were key topics at the summit.
Pellerin says she was at the summit mainly to lend support to a delegation representing a dozen French companies active in the green economy, some of them already in China and others eager to create partnerships or find new markets.
"It is a big challenge for us in Europe and also in China to find a new sustainable growth model, so I think there's a big future in the green economy. We already have partnerships between Chinese and French cities to develop eco-districts, so places and districts in cities will experiment with this kind of technology."
The food industry is another area where she is looking for more collaboration. In Beijing after the summit she signed agreements with the General Administration of Quality Supervision, Inspection and Quarantine of China on ensuring the authenticity of French wine imports.