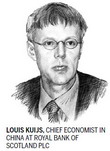 Declines in the manufacturing Purchasing Managers Index since December reflect an economic slowdown that continued through March 2014. While economic news out of the United States and Europe continues to be largely positive, the recovery in global demand growth - which is still very important to China's cycle - has remained tepid so far. Meanwhile, domestic economic activity slowed across the board in early 2014.
Despite the weak start to the year, we remain relatively constructive on China's economic growth outlook for this year. We continue to expect many of China's organic domestic growth drivers to remain in place, notably consumption, urbanization and services. Global demand growth is on a gradually improving trend, which will help China's economy this year. 


The manufacturing sector was weak in the first quarter. Further, investment growth decelerated as credit growth shrunk amid a firmer monetary stance, while companies remained reluctant to expand capacity. Growth in real estate investment also cooled.
Other parts of the economy may have been holding up better than manufacturing. Swings in manufacturing growth tend to be more pronounced than those in the services sector. Also, in China, the role of the services sector is increasing because of a changing growth pattern. In 2013, the services sector grew faster than industry, with the difference particularly pronounced in nominal terms because pricing power has also been better in services.
Therefore, the nonmanufacturing PMI held up better in recent months, and that's helped keep the labor market healthy.


The recent government work report and Premier Li Keqiang's recent comments underscore the fact China's leadership still attaches much importance to economic growth. The premier said: "To keep economic growth within a reasonable range is the basic requirement of macroeconomic controls - and it is also the long-term policy orientation."
As to the current outlook and the upshot for policy, we think Li basically confirmed that the government is going to take some measures to support growth. The policy measures he called for include accelerating the construction of key investment projects, in particular railways, highways and water projects in the central and western regions. Another facet is supporting the construction of affordable housing. This does not mean a major, or high-profile, stimulus plan, because these projects are already in China's medium-term plans.
But the call to accelerate them does matter, nonetheless, in terms of what it means for the macroeconomic policy stance.


In response to the economic data released so far, and taking note of the global trade trajectory, we've lowered our GDP growth estimate for the first quarter significantly.
We also slightly lowered the figure for the second quarter, which also affected the full-year GDP growth projection.
We now project GDP growth to have declined from 7.7 percent in the fourth quarter of 2013 to 7.5 percent in the first quarter this year, then to edge up to 7.6 percent in the second quarter.
Our forecast is 7.7 percent for the year as a whole.
How this growth will materialize in terms of organic growth and policy dynamics is more important than the numbers themselves, and the evolution of macroeconomic policy is key here.
We think that it would not be necessary or recommended to pursue expansionary policies even if GDP growth threatens to falls to 6.5 to 7 percent, given healthy labor market trends.

 -----Louis Kuijs
CHIEF ECONOMIST IN CHINA AT ROYAL BANK OF SCOTLAND PLC