Chinese premier eyes stronger consular protection for overseas citizens
Updated: 2014-05-09 10:19
(Xinhua)
Comments
Print
Mail
Large
Medium
Small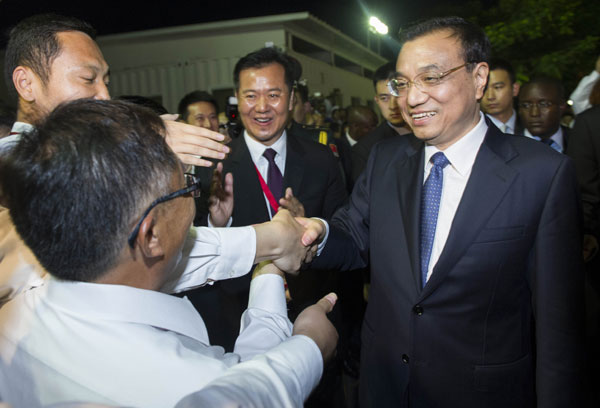 Chinese Premier Li Keqiang (R) shakes hands with representatives of Chinese companies in Angola, after holding a seminar with them, in Luanda, Angola, May 8, 2014. [Photo/Xinhua]
LUANDA - Chinese Premier Li Keqiang said here Thursday his country will set up a global emergency call center as part of an effort to strengthen consular protection of those compatriots living abroad.
"Efforts must be made to make sure that our citizens are under consular protection wherever they go," Li said at a seminar with more than 40 representatives of Chinese companies in Angola.
As China keeps its opening-up drive, more and more Chinese companies and people are going overseas, and the protection of their legitimate rights has become an intruding problem, Li said.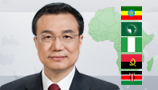 Concrete measures must be carried out to better protect Chinese companies and people overseas, Li said, adding that it is not only the requirement of China's opening-up, but also the responsibility of the Chinese government.
Meanwhile, the premier urged Chinese companies and citizens abroad to follow the principle of mutual benefit and go beyond the zero-sum mentality in addition to abiding by local laws, respecting local customs and shouldering their due social responsibilities.
Li arrived in Luanda Thursday afternoon for an official visit to the southern African country, the third leg of his ongoing four-nation Africa tour, which has taken him to Ethiopia and Nigeria and will conclude in Kenya.
Upon his arrival, Li traveled to a vocational school co-financed by the Chinese and Angolan sides, and joined Angolan Vice President Manuel Vicente in the official opening ceremony of the charity facility.
The school provides free vocational training for poverty-stricken youngsters aged between 16 and 25 in order to help them find jobs. Such urgently needed disciplines as electronic engineering and machinery operation are now available.
"Job means hope," Li told the students, while urging school executives to provide localized training courses and thus help boost the China-Africa people-to-people exchanges.
The premier also met with members of a Chinese medical aid unit working in Angola. Highlighting the high nobility of their work, Li encouraged them to overcome difficulties and work full-heartedly so as to convey the friendship of the Chinese people to local residents.
China has been sending medical aid teams to developing countries since 1963, and the program now covers more than 40 African countries.
Li is scheduled to hold talks with Angolan President Jose Eduardo dos Santos on Friday before departing for Kenya.