Emergency squad
Sui, a bustling woman in her 50s, is head of the environmental emergency and accident investigation center at the Environmental Protection Ministry in Beijing. The department is charged with dealing with environmental emergencies and pollution inspections.
The pollution sources she chases and the notes she makes will help the ministry evaluate the local government's performance in the control of toxic emissions from a wide range of airborne pollution sources. Sui's work has been bolstered by the new policies issued in September, aimed at "bringing a visible change" to air quality nationwide by 2017.
The ministry's inspection campaign, which runs from October to March, targets sources of airborne pollution and has been timed to coincide with the Chinese winter, when extensive use of coal-fired heating causes levels of haze and smog to climb steeply.
The inspection is mainly focused on the Beijing-Tianjin-Hebei cluster, one of China's most-polluted areas. Cities within the cluster usually occupy six or seven places on the list of the "10 most polluted cities of the month" released by the ministry every four weeks.
In late September, high-ranking officials from municipalities, provinces situated in and around the cluster, plus the Inner Mongolia autonomous region, signed pledges with the central government, vowing to reduce their combined annual consumption of coal by 83 million metric tons by the end of 2017. They also pledged to crack down harder on violations of the environmental regulations.
A month after the policy was announced, six inspection teams, including Sui's, were sent to 12 cities within the cluster to check if local officials are honoring their promises and making every effort to curb air pollution.
Before arriving in Tianjin, the team had spent a week checking on companies emitting airborne pollutants in Qinhuangdao, Hebei province.
The team's task for November was to run through all the districts and counties in the two cities and check whether key coal-burners have modified and upgraded their production lines with desulfurization, denitrification and dust-removal technology, and whether the changes are having the desired effect. The task also included checking dust-prevention measures in areas where raw materials such as coal and sand are stockpiled, and assessing the local authorities' moves to eliminate illegal small-scale polluters.
The checks will be repeated every month. "That means we have to spend half a month working in the field, and the other half writing summaries and preparing for our next field trip," said Sui's colleague, Liu Qing.
The teams have to choose their targets carefully because inspection time is limited. "We have our own criteria for choosing which businesses to inspect," said Sui. "Those with poor record historically, or who have appeared on a list of public tip-offs made via our hotline, or those requiring control at the national level, are very likely to attract our attention."
To ensure the evaluations are impartial and objective, the five-person inspection teams are augmented by an environmental official from a local municipal or provincial government unrelated to the area.
Sui and her six-person crew, which split in two groups to conduct inspections, examined around 50 pollution sources in Tianjin during their six-day tour of duty. Thirty-three sources were found to be violating the environmental laws and regulations, 26 of which were discovered by secret checks.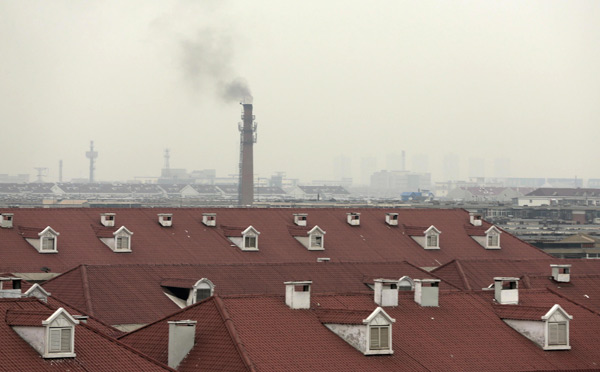 The smoking chimney at the Yibaibeili community is one of many pollution sources in Tianjin.PHOTO BY FENG YONGBIN / CHINA DAILY