Manchester United's past and future collided as debutant James Wilson scored twice in a 3-1 win over Hull City on Tuesday that marked the end of stalwart Nemanja Vidic's Old Trafford career and set tongues wagging about Ryan Giggs.
Wilson, 18 years old and one of two debutants in the game, scored in each half before Matty Fryatt pulled one back for Hull and Robin van Persie added a third for United in its final home game of a turbulent season.
Wilson stole the headlines, but an emotional finish to the night focused on those at the other ends of their careers.
Club captain Vidic, who is leaving for Inter Milan in the offseason, played his final home match, receiving a memento prior to kickoff from club great Bobby Charlton and a post-game tribute from Giggs, who addressed the crowd in his role as interim manager.
With United set to appoint a new manager in the offseason and Dutchman Louis van Gaal favored to land the job, the future is uncertain for the 40-year-old Giggs after 963 club appearances and 25 major trophies.
"We know it has been tough this season and over the years we have been spoiled with all the success we have had," Giggs said, clutching a microphone on the Old Trafford pitch. "But the support this year has been fantastic and I am sure over the coming years we will bring you more success.
"Keep supporting us; you have seen a glimpse of the future. We always give youth a chance and that's what this club is all about."
The address was in stark contrast to the celebratory tone of last season's message delivered by Alex Ferguson, who signed off his 27-year career with a 13th Premier League trophy and an appeal for United fans to stay loyal to his successor, David Moyes.
Two weeks after Moyes' troubled 10-month spell in charge came to an end, United is seventh in table with 63 points, three behind sixth-place Tottenham Hotspur. Hull, which takes on Arsenal in the FA Cup final on May 17, stay 15th.
Wilson made the sort of impact most young players can only dream of when he pounced on Marouane Fellaini's knock-down to rifle home his first goal in the 31st minute.
His predatory instincts were showcased again 16 minutes into the second half when he tucked in a rebound after a Fellaini shot was saved.
A stunning Fryatt effort from 25 yards to reduce the deficit and Van Persie's finish on the second attempt to re-establish United's two-goal lead completed the scoring on an occasion that had the feel of a testimonial.
Giggs kept his cards close to his chest, but Vidic, after eight years of helming United's back-four and five league titles to show for his efforts, was able to say a proper goodbye.
"It was hard in many ways because it was my last game at Old Traffordand it was my first year not celebrating a trophy, so it was a tough season," said Vidic, who started the match on the bench.
"This is maybe the best part of my life. I have three kids, I've won lots of trophies and have been loved by fans. The fans showed their class when we didn't do well this season.
"I was very emotional. I have to say my heart will always be at this club. I have spent so many years here and been part of such a good team and worked with so many great people."
One negative for United was the shoulder injury suffered by England's World Cup hopeful Phil Jones that brought about Vidic's early entrance to the fray.
The centerback played just 22 minutes and then taken to hospital.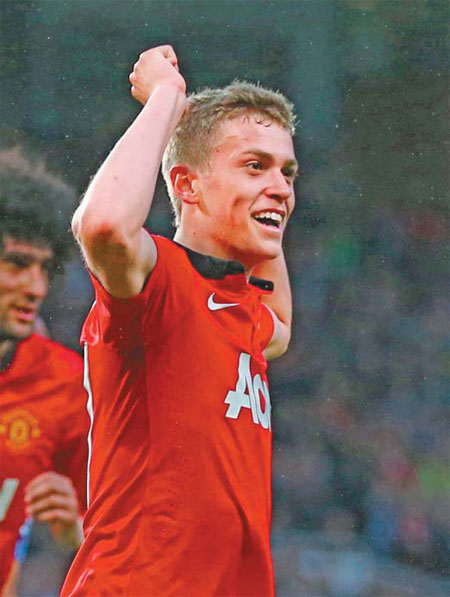 United's James Wilson celebrates after scoring against Hull City during their English Premier League match at Old Trafford in Manchester on Tuesday. Darren Staples / Reuters
(China Daily 05/08/2014 page24)