BEIJING - A new power unit and changes to the rules are big challenges for Sebastian Vettel and his Red Bull team this season, but they will try to adapt and "give 100 percent" in future races, said the youngest Formula One world champion during an F1 experience day in Beijing.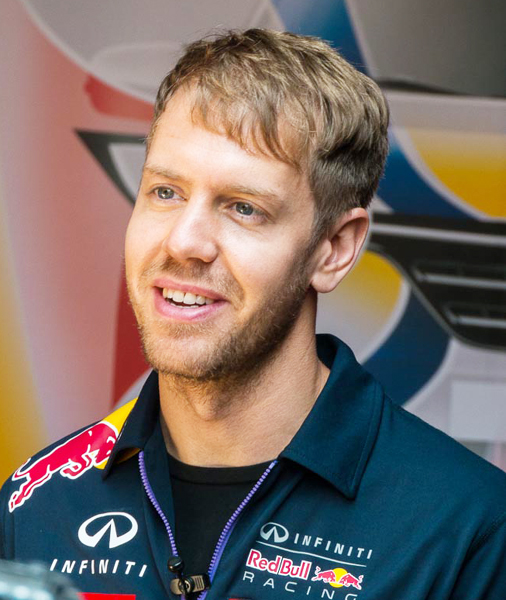 Sebastian Vettel of Red Bull talks to media during a Renault F1 Experience Day themed "There is some F1 in every Renault" at the Zhengyici Theater, an old Peking Opera House, in downtown Beijing, April 21, 2014. [Photo by Hao Yan/chinadaily.com.cn]
"This year everything is new: new car, new power unit and this means a lot of work for everybody. Being part of the team you realize how big changes that we will face this season," the 26-year-old German told a packed press conference on Monday during the Renault F1 Experience Day at the Zhengyici Theater, an old Peking Opera House, in downtown Beijing.
Vettel, who won four consecutive world titles between 2010 and 2013, did not start the new season well after struggling with reliability issues throughout winter testing. He is currently fifth in the standings with 33 points after finishing fifth in the Chinese Grand Prix in Shanghai, lagging far behind the leading Mercedes duo Nico Rosberg and Lewis Hamilton.
But the defending champion believes the team will do better and "are excited to look forward to upcoming events and will always give 100 percent."
Major changes to the sport's rules this year are a big test for drivers after the introduction of 1.6-liter V6 turbocharged engines with and two Energy Recovery Systems (ERS).
Each driver will have only five power units this season compared to eight previously. A driver will have to use a sixth power unit and incur a 10 place penalty if he has a failure of ERS, turbo, an exhaust, battery or electronics failures
Laureus awards pride and inspiration
Quadruple world champion Vettel said he was very proud and happy to win this year's Laureus sportsman of the year award which he regards as "the highest award one can receive as a sportsman".
Vettel defeated a star-studded nominees' list, including Cristiano Ronaldo, LeBron James and Usain Bolt, to win the sportsman of the year at the Laureus Sports Awards a month ago, becoming only the second F1 racer to receive the Laureate, following Michael Schumacher's honor 10 years ago.
Vettel told China Daily during the press conference that it is difficult to prepare for such awards, saying "it's not like something you can get easily in your hands".
"Obviously, you can be nominated if you drive well or do well on the track, but you must have journalists around the world vote for you and members of the academy to decide it's you to win the award," said Vettel.
"But it's a very very special honor that I finally have succeeded (in winning the awards)."
Vettel started racing go karts at the age of eight and always demonstrated his obsessive enthusiasm for racing and persistent pursuit of victory.
Partnering up with Renault helpful
He also praised the Renault engine that has helped numerous racers achieve new track records in its more than a century of history.
"The four titles mean a lot to me and my team and we know that such an achievement can't be realized without Renault engines," he said.
Vettel finished the 2009 season as the youngest world drivers' championship runner-up in car equipped with Renault's RS27 engine. In 2010, powered by the same RS27 engine, Vettel overcame many challenges to win his first championship, in the process becoming the youngest world champion in F1 history.
Since then he has repeatedly broken records and become the youngest quadruple F1 champion history, powered by Renault's robust power output, leading technologies and engine performance.
"As an 'F1 Youth Genius', Mr Vettel has a born gift in racing sport," said Gilles Normand, senior vice-president and chairman of Asia-Pacific Region for Renault. "We are very proud to be a strong supporter during Sebastian's road to becoming the youngest four-time champion."
"We are very grateful that Sebastian, with such extraordinary achievements under his belt, has proved to the whole world that Renault has an absolute advantage in racing sport and engine technology."
Related stories:
Vettel chafes after orders to let Ricciardo pass
Ferrari leads push for F1 rule changes

Fact box on Sebastian Vettel
Age: 27

Nationality: Germany

Formula One World Championship career

Championships:
4 (2010, 2011, 2012, 2013)

2013 position:
1st (397 points)

First race:
2007 US Grand Prix

First win:
2008 Italian Grand Prix

Races: 124 (124 starts)

Wins: 39

Podiums: 63

Career points: 1,482

Teams:

Red Bull - Renault (2009–present)

Toro Rosso (2007–2008)

BMW Sauber (2006–2007)

Chinese Grand Prix at a glance
Hamilton takes pole for Mercedes in China

Driver standings after the F1 Chinese Grand Prix in Shanghai:

1. Nico Rosberg (Germany) Mercedes 79

2. Lewis Hamilton (Britain) Mercedes 75

3. Fernando Alonso (Spain) Ferrari 41

4. Nico Huelkenberg (Germany) Force India 36

5. Sebastian Vettel (Germany) Red Bull 33