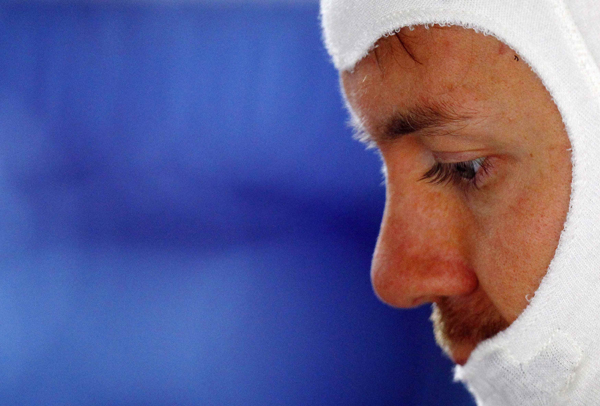 Red Bull Formula One driver Sebastian Vettel of Germany prepares to drive during the second practice session of the Chinese F1 Grand Prix at the Shanghai International circuit, April 18, 2014. [Photo/Agencies]
SHANGHAI - Formula One world champion Sebastian Vettel smarted on Sunday after being told for the second race in a row to let Red Bull team mate Daniel Ricciardo overtake because the Australian was faster.
Ricciardo finished fourth in the Chinese Grand Prix with quadruple champion Vettel, winner of the last nine races of 2013, in fifth.
Vettel sounded reluctant to comply when he received the radio instruction on the 24th lap, replying 'tough luck'.
Ricciardo went past on lap 27 and ended the race more than 20 seconds ahead of Vettel and with Ferrari's third-placed Fernando Alonso in his sights. Another lap and he might have overtaken the Spaniard.
"Obviously he's going to challenge them, he's a racer, he's on the same tyres at that point and the guys want to race each other," said team boss Christian Horner of Vettel's response to the team orders.
"But we were looking at a different strategy for Seb...and then he's obviously moved out of the way and let his team mate through.
"From a team point of view we always want to get the best result we can. Seb's done the right thing for the team today. As he's said very honestly, he's let his team mate through. He (Ricciardo) was quicker today."
Red Bull have made a difficult start to the season but have been picking up pace, with Ricciardo starting Sunday's race on the front row and alongside Mercedes' race winner Lewis Hamilton.
He also finished second on his debut with the team in Australia, although he was excluded from that race after a fuel flow rate controversy, and has looked more at home in the new car with its V6 turbo engine.
"I think there was no point holding him back further," said Vettel, always seen as number one at Red Bull when Australian Mark Webber was his team mate up to the end of last year, of Sunday's race.
"He was quite a lot quicker. At that stage we were on different strategies. Once I was told that I decided to let him go. And also I had to realise more and more towards the end that I couldn't hold him back."
Vettel famously ignored team orders in Malaysia last year when he was behind Webber, overtaking the Australian to win in an incident that poisoned the atmosphere of their final season together.
The ever-smiling Ricciardo indicated he had barely noticed any controversy over the team instructions.
"I was told about the radio now so I wasn't really aware of it on track," he told television reporters.
"In turn one I had a bit of a look, I don't know if he went deep or gave me a bit of room but I managed to get by after the lap so it wasn't too bad."