Vettel racing against himself
German driver looking to build on record streak in new season
Sebastian Vettel was on such a record roll in 2013 that by the time Formula One rocks up for this year's season-opener in Australia it will be almost eight months since anyone else won a grand prix.
Even allowing for an August shutdown and three-month winter break, that single statistic highlights just how demoralizing last year was for all those trying to beat Red Bull's quadruple world champion.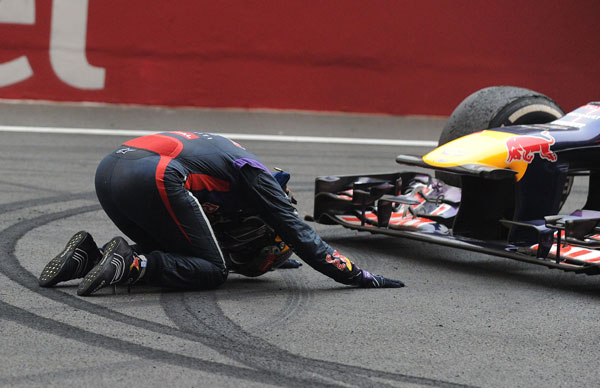 Red Bull driver Sebatian Vettel of Germany celebrates winning the Formula One Indian Grand Prix at the Buddh International circuit in Greater Noida, on the outskirts of New Delhi, in October. Prakash Singh / Agence France-Presse
The 26-year-old Vettel, soon to be a father, could have clinched his fourth successive constructors' championship on his own, given that he amassed more points (397) than any other team over the 19 races.
The finger-pointing German chalked up nine wins in a row, the first time any driver has done that in a single campaign since the championship started in 1950, and 13 in total to equal compatriot Michael Schumacher's 2004 record with Ferrari.
The youngest quadruple champion also became the first to win his first four titles successively.
Rallying shrugged off nine years of Sebastien Loeb's domination to crown another Frenchman, Sebastien Ogier, in a debut season for Volkswagen while MotoGP hailed the top category's youngest ever champion in Honda's 20-year-old Spanish sensation Marc Marquez.
But in Formula One and NASCAR, where Jimmie Johnson celebrated his sixth Sprint Cup championship in eight years, it was more of the same.
Some early-rising TV viewers may have opted to go back to bed or take the dog for a walk rather than watch Vettel win yet again, but others were happy to give credit where it was due and recognize a special talent.
On the evidence of last year, Vettel can look forward to new milestones - and more tire-smoking victory 'donuts' - in 2014 as his career increasingly draws comparisons with the best of the best.
Victory in Australia would make him the first driver to win 10 races in a row and take his career tally to 40 wins - just one short of the number amassed by the late Brazilian Ayrton Senna.
Another title, in a year that will see Russia make its debut and Austria return after India and South Korea bowed out, would equal Schumacher's record of five in a row.
The good news for rival teams and fans yearning for change at the top is that past performance does not guarantee future success - and 2014 could be very different to 2013.
"You never know what's going to happen; next year is an unknown," Vettel said in November. "I'm sure we will fight a lot to maintain our position but there's no guarantee that next year will be like this year."
End of an era
Last year marked the end of an era, on the technical side at least, and the start of a new journey into an uncertain future.
The trusty V8 engine has been pensioned off, screaming into retirement, to be replaced by something potentially far less reliable - and much more expensive - in the form of a turbocharged V6 unit with energy recovery systems.
Ferrari, beaten to the runner-up slot by Mercedes, has waved Brazilian Felipe Massa off to Williams and welcomed back its 2007 champion Kimi Raikkonen - who complained of not being paid by Lotus - as Fernando Alonso's teammate in a lineup of champions.
Whether the biggest rule change in a generation can also transform the pecking order remains to be seen, with Vettel still very much a favorite, but there is a realistic chance it will.
Nobody knows which of the three manufacturers will produce the best engine and, in a bid to keep interest in the championship going longer, the governing FIA controversially decided to award double points for the final race of the season in Abu Dhabi.
The fans, some of whom took to booing Vettel on his increasingly routine trips to the top of the podium, were scathing about 'Abu Double' and what they saw as a needless gimmick - with the champion very much in agreement.
They were not too happy after this year's Malaysian Grand Prix at Sepang either, where Vettel ignored team orders (the famous 'Multi 21, Seb') and passed Australian teammate Mark Webber for the win.
The German will not have to worry about Webber this year, with the no-nonsense Aussie deciding enough was enough and leaving Formula One for a new future with Porsche in its Le Mans sportscar program.
Instead Vettel will have a younger and probably more compliant Australian on the other side of the garage, with Daniel Ricciardo moving up from Toro Rosso and a steep learning curve ahead.
For Pirelli, 2014 promises to be another big challenge after a year of brickbats and blowouts brought the tire supplier plenty of publicity for all the wrong reasons.
The tires dictated the pace of the championship, with Vettel's winning spree following changes forced through after a spate of failures at Silverstone in June threw the sport into crisis and the season into a tale of two halves.
There was also controversy surrounding a 'secret' tire test that was carried out by Pirelli and Mercedes in Spain in May.
That episode had their rivals up in arms and the German manufacturer, who won three of the five races between the test and August break, was subsequently summoned to appear before the governing body.
One of those wins was for 2008 champion Lewis Hamilton, whose switch from McLaren turned out to be beneficial after many had predicted he was making the wrong move.
Meanwhile McLaren, the team that had ended 2012 with the fastest car, looked more like chumps than champs after ending its 50th anniversary year without a single podium appearance for the first time since 1980.
It could have been worse, with Jenson Button grabbing a fourth place right at the finish in Brazil to stave off the team's worst overall performance since its Formula One debut season in 1966.