Vettel shows his mettle
Red Bull driver makes history with eighth straight GP victory
Anyone hoping that Sebastian Vettel might become tired of winning and give somebody else a chance was left disappointed on Sunday.
After his record-breaking eighth straight win this season, the four-time champion Red Bull driver promised more of the same - and gave an insight into the secret of his and his team's success.
"It is not as if I am getting bored," said Vettel, reflecting on his 38th career victory in Sunday's master-class at the US Grand Prix.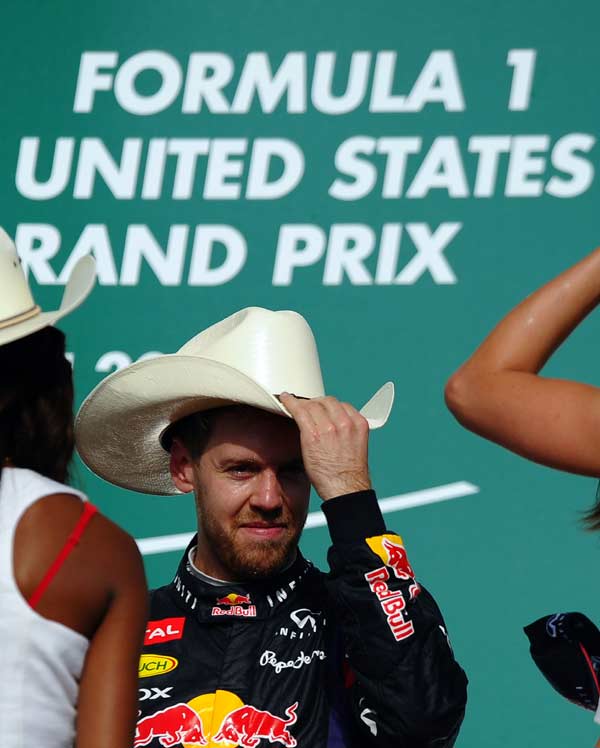 Red Bull driver Sebastian Vettel of Germany dons a cowboy hat on the podium after winning Sunday's US Formula One Grand Prix in Austin, Texas. French Lotus driver Romain Grosjean finished in second place while Vettel's teammate, Mark Webber of Australia, was third. Jewel Samad / Agence France-Presse
"I think I still have quite a lot to do."
His commitment and passion were revealed in his post-race reaction to winning when he almost choked on his words as he talked to the team and then shed a tear on the victors' podium.
"We have to remember that there is no guarantee it will go on," he told the team. "I love you."
The 26-year-old German then told a post-race media conference that he felt very proud of having added his name to the record books and labeled his run of victories as incredible.
"It makes us very proud of that moment," he said. "I think it is very difficult for all of us to realize what it means.
"One day people might look back and talk about our time and what we have done as a team.
"Everybody is happy to just turn up and give it everything. If there is one thing, that is the secret.
"Yes, the car has been mostly very reliable, but it is the mind-set we have, trying to give it everything we have, not miss a single step - that is what counts.
"People tend to forget that every single weekend is a challenge on its own. To have such an incredible run is very difficult to realize."
Vettel has been triumphant in every race since the Belgian Grand Prix in August. Yet he remains competitive and insisted he remains committed to staying out in front.
"I have quite a lot to do - looking at the gaps, I have to match their pace. When they come closer, it is not the best feeling.
"You want the gap to increase always, you don't want it to become smaller.
"It was clear this weekend that we have a very, very good package, especially on the long-run pace.
"We might have compromised the pace yesterday, but today I was happier with the balance. The car was similar to Friday so I was very happy.
"You do tend to have quite a lot of work in the car. It is a Sunday afternoon drive, but not in that regard. Not the way you think!"
As he spoke, his enthusiasm for his job was apparent.
At just 26, with so much success already, he looked set for more - and might well carry on his supremacy next season when Formula One moves into a new era with a revised book of technical regulations.