Mandarin key for Angolan's ambitions
Updated: 2014-05-09 07:20
By Xinhua in Guangzhou (China Daily)
Comments
Print
Mail
Large
Medium
Small
"You're going to study in China and get a better job back home after graduation."
Angelina Dodissea Alberto Gomes, an Angolan woman in her 20s, repeated the words in Chinese.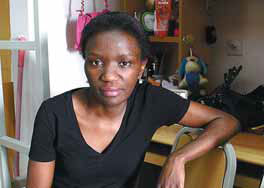 Angelina Dodissea Alberto Gomes hopes to find a better job after finishing her studies in Guangzhou. Xinhua
Those words represent the great expectations her mother placed on her before she came to China to further her career.
"A person with a diploma from a Chinese university is most welcome in the Angolan labor market," Gomes said.
The 27-year-old came to the southern Chinese city of Guangzhou a year ago to learn Mandarin, in hopes that she could find a promising job back in her home country.
Gomes, currently a student at the College of Chinese Language and Culture of Jinan University, plans to stay in China for five years.
Gomes' home country, Angola, is a resource-rich former Portuguese colony in southwestern Africa, which has enjoyed double-digit economic growth in recent years.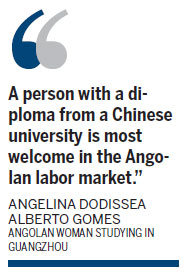 It has attracted a large amount of foreign investment, including from China, which has been used for roads, railways and bridges.
"Angolan employers sometimes ask whether you can speak good Chinese," Gomes said. "That's why I am here."
She worked at her brother's company for six years after her graduation from a vocational high school where she majored in mechanical engineering.
Gomes' life in China was financed by her mother, a doctor who lost her husband and raised her nine children on her own. "Studying and living in China is relatively cheap, except taxi fares," she said. Gomes spends roughly 2,000 yuan ($320) a month in the southern Chinese city.
Gomes, who failed to get a government scholarship due to fierce competition, must pay 9,000 yuan in tuition for an academic year as well.
At Jinan University, there are about 3,800 foreign students from 92 countries, with 73 of them are from Africa and three from Angola. Dozens of Angolans are studying in other Chinese cities such as Wuhan, Shanghai, Hefei and Ningbo.
Gomes feels at home in China. She uses WeChat, a Chinese messaging app, to communicate with her teachers and classmates. She even has a Cantonese friend named Zhang Xin. "I taught her Portuguese, and she taught me Chinese," she said.
In her spare time, Gomes reads books, surfs on the Internet, chats with friends and goes shopping like many Chinese youngsters.
She usually has her hair and nails done in a community on Xiaobei Road in Yuexiu district, which is home to a large number of Africans living in Guangzhou.
Around 70 to 80 percent of residents around Xiaobei Road are from Africa, said Chen Xiaobing, a manager of the Tianxiu mansion on there.
African shops, beauty salons and restaurants are packed in rows, while African nationals, some in traditional attire and some in T-shirts and jeans, are seen everywhere in the neighborhood.
According to official statistics, 4,222 Africans are living in Guangzhou, and nearly 50 percent of them are students.
Despite being homesick sometimes, Gomes said she has gotten used to living in China.
In summer, it is hot and rains a lot in Guangzhou. "The climate here is like that of Angola," she said.