Tibetans reject recent acts of violence and message of division and hatred, Cui Jia reports from Sichuan.
The Tibetan New Year is coming and herdsman Gyirai Lhamo went into town on Wednesday to buy cloth so that his wife could make clothes for the family. He was surprised to find that many stores, including his favorite fabric shop, were closed and windows in the police station were smashed.
He was in Luhuo county, the Ganzi Tibetan autonomous prefecture in Southwest China's Sichuan province. Rioters had stormed the station about noon on Jan 23, Chinese New Year's Day. The next afternoon, a police station 154 kilometers away in Seda county was also attacked.
"There were about 1,000 of them, and they began gathering at the square after 11 am," Ma Wenge, director of the police station, said. "The square is only five minutes' walk from the police station.
"There were more than 10 trucks at the square. The crowd received rocks, batons and gas bottles from people in the trucks. They were shouting slogans," said Ma, who is an ethnic Tibetan.
The small square looks more like a road junction, but it features the county landmark - a silver, sculptured conch shell, an auspicious symbol in Buddhism. A Tibetan Buddhist temple, with a golden roof, is perched on a mountain overlooking the square.
The owner of a small convenience store opposite the police station said he locked the doors of his shop and left as soon as he saw people with rocks and batons gathering.
"I could see violence on the way, and was scared," said the man, who is in his 40s and gave only his family name, Guo. "Some store owners just fled for their lives, even without shutting down their stores. No one has seen such violence."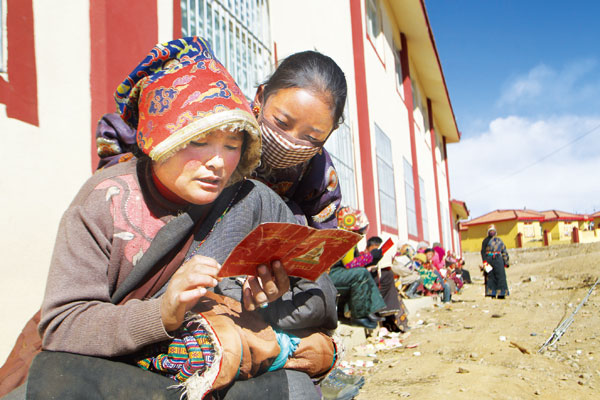 Tibetans read outside their homes in Guzan village in the Ganzi Tibetan autonomous prefecture in Southwest China's Sichuan province. Feng Yongbin / China Daily