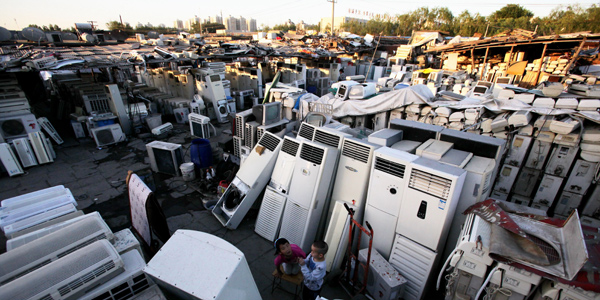 Disused air conditioners stored in an open area in Dongxiaokou, a village in Beijing's northern suburbs, whose residents are mostly garbage collectors.[Photo by Wang Jing/China Daily] 
The village that has long been home to Beijing's hidden army of garbage collectors is facing demolition as China's capital city looks to redefine its role, as Zhao Xu reports.


Liu Fengqin is resigned to moving house in the near future, but has no idea where she will go. However, the process isn't a new one for the 38-year-old mother of three who said she has relocated, sometimes unwillingly, at least five times in the past two decades.
The family plans to take all their possessions with them: old furniture and clothing, slightly stained tableware, a gas stove ... and a few hundred disused air conditioners.
Liu and her family belong to Beijing's vast, but mostly ignored, army of waste collectors and recyclers, most of whom live in the village Liu is just about to vacate - Dong-xiaokou, once a small farming community in the northern suburbs of the Chinese capital, just outside the Fifth Ring Road.
In the early years of this century, the village ceased to be an agricultural center, becoming instead Beijing's - and arguably North China's - biggest space for the storage and recycling of electronic waste.
There's little left to remind visitors of the "golden times", though. The 2008 global economic meltdown hit trade hard.
Enforced demolition
Those who harbored hopes of staying on in the village saw those dreams shattered at the end of April when the government ordered the demolition of an area the size of six soccer fields. The process took a team of contractors equipped with bulldozers just three days to complete.
Some of the demolition work took place on the other side of the narrow road on which Liu and 50 other families run their businesses.
Once it was easy for new arrivals to find a foothold in this part of town dominated by former farmers who relocated to the city from Henan province in Central China, six hours from Beijing by train.
Once, the men who struggled to find their feet in the strange, impersonal city and who all spoke the distinctive Henan dialect, were consumed by the same desire, to get rich. Now they all face the same dilemma.