Sanya moves to pad residents' wallets as inflation rises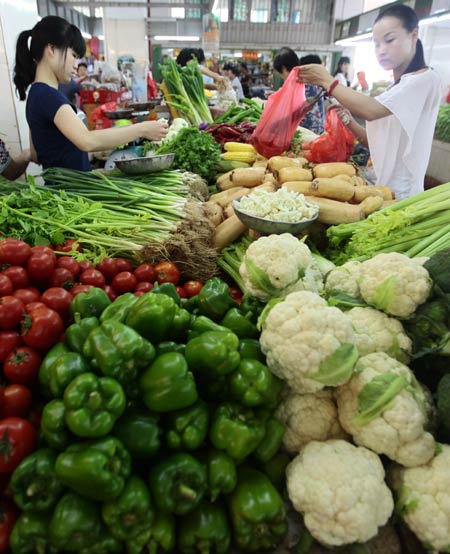 Residents choose vegetables to buy at a market in Sanya in April. Provided to China Daily
With Sanya's growing tourism industry pushing prices up for groceries and household items, the city government announced on Tuesday that it will roll out the second phase of its inflation subsidy for residents.
According to Sanya's finance bureau, 620,000 residents will receive 360 yuan ($59) around June 26 to help offset their expenses for the first half of this year. The subsidy will cost the city government 223.2 million yuan.
In February, residents were given 200 yuan in the first phase of the subsidy program. They will receive an additional 360 yuan for the second half of the year at a later unspecified date.
Residents with a Sanya hukou, or household registration, and non-local residents who have paid into the local health insurance system for at least six consecutive months from November to April are eligible for the subsidy.
Liu Xi'an, chief accountant at the city's finance bureau, said the subsidy will help residents offset rising prices for commodities "brought on by the growing tourism industry in the city".
"Sanya is a tourism city. Commodity prices are largely affected by this," Liu said.
Liu said the allowance program has already been factored into the city government's budget. Initiated in 2010, the program has been running for five straight years in the city. The annual subsidy rose from 360 yuan a person in 2010 to 920 yuan this year.
Residents in Sanya said the subsidy is not enough.
City resident Rong Ying said the subsidy is a good move, but 560 yuan for the first half of the year is not enough to cover her family's daily expenses.
"The average price of cabbage here is 12 yuan to 14 yuan a kilogram. It's more expensive for pork and beef. It would be better if the subsidy would rise to 300 yuan a month," she said.
Liu said the subsidy payments are calculated based on multiple factors.
"We have three considerations for this standard. First and foremost is the local government's budget. The other two concerns are commodity prices and average growth of personal incomes," he said.
Macao conducted a yearly cash handout plan in 2008 as a short-term measure to help residents deal with inflation. In 2013, the Macao government offered each permanent resident 8,000 patacas ($1,000) and 4,800 patacas to non-permanent residents.
Contact the writers at liuxiaoli@chinadaily.com.cn and yanyiqi@chinadaily.com.cn