Experts urge expansion of legal aid to cover all defendants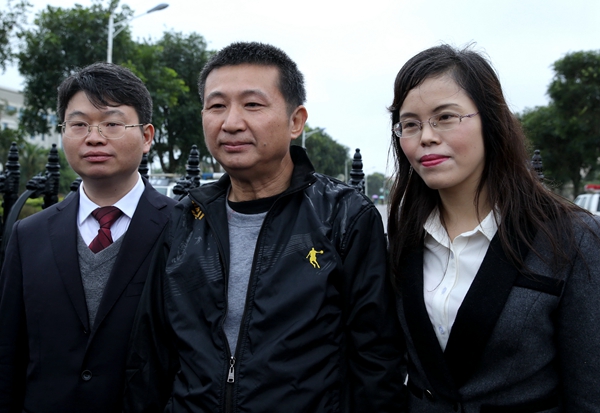 Chen Man stands with his lawyer, Wang Wanqiong, following the quashing of his conviction for murder in February last year. [PROVIDED TO CHINA DAILY]
A lack of defense lawyers means many people are appearing in court without adequate legal representation. Cao Yin reports.
Lawyers and legal experts are calling on the government to expand the provision of legal aid to a larger number of defendants and provide better funding to encourage more lawyers to accept criminal defense cases.
The ongoing efforts to improve the rule of law have resulted in a number of wrongful convictions being overturned, including that of Chen Man, who was sentenced to 23 years for murder. In February last year, the appeals court ruled that the evidence brought against Chen was circumstantial and that his involvement in the murder could not be proved beyond doubt.
The quashing of Chen's conviction was a boost for his lawyer, Wang Wanqiong. "My job is to play a bigger role in upholding justice," she said.
Following Chen's release, Wang's phone rang continually as people called in the hope of obtaining legal advice or persuading her to defend them in court.
"I could feel the trust the defendants and the judicial officers placed in me, which gave me a real sense of achievement," she said.
On the downside, there is still a long way to go before all defendants have adequate legal representation in China's courts: "As an index of the rule of law and a safeguard against flawed convictions, the number of cases in which defendants have access to defense lawyers hasn't risen significantly, despite people paying more attention to criminal cases," she said.
Disparity
Zhang Qingsong, from the Shangquan Law Firm in Beijing, said there are no official national statistics, but some lawyers and justice bureaus estimate the number of cases in which defense lawyers are active is about 20 percent, which means a large number of people are being tried without being represented by a defense lawyer.
The problem arises from the wide disparity between the number of criminal cases and the number of lawyers, the fact that many defendants lack the financial means to hire a lawyer and that the legal aid provided to defendants is insufficient, he added.
A report published by the Supreme People's Court, the nation's top legal chamber, shows that the courts heard more than 1.10 million criminal cases in 2015. However, according to the All-China Lawyers Association, the number of lawyers available was just 297,000, and only about 10 percent of them were qualified to handle criminal cases.
Very few lawyers are willing to work in criminal defense, Zhang said.
"Sometimes, the rights of criminal lawyers cannot be protected to the same extent as those who tackle civil or commercial cases, and their safety may even be at risk," he added.
The problem has been exacerbated by the poor rates of pay offered to defense lawyers, and neither the defendants nor the government are willing to pay more for their services.
Under Chinese law, defendants who lack the means to hire an attorney can be offered the services of a designated lawyer. "However, legal aid doesn't cover all applicants," said Ji Xiangde, a researcher with the institute of law at the Chinese Academy of Social Sciences.
Given the difficulty of raising the number of criminal lawyers and the quality of the services they provide, the government should move to ensure that legal aid covers a larger number of defendants and provide more subsidies for designated attorneys, he added.
Insufficient protection
According to Wang, it has been easier to talk with judges and prosecutors since 2013, when the central leadership ordered all judicial authorities and the police to safeguard the rights of defense lawyers.
In most of the cases she deals with, her rights are protected, including those related to meeting with clients and examining relevant legal materials. "That demonstrates the progress made thanks to the promotion of the rule of law," she said.
Problems remain, though. For example, access to court materials varies from province to province.
In Sichuan province, Wang is allowed to take a computer to copy case documents, and the courts provide her with CDs containing the information if the volume of material is too great.
But that isn't the case in Shanghai. When Wang worked on a blackmail case in the municipality, she was refused permission to copy documents to her own computer, and a computer provided by the court didn't work.
Moreover, criminal lawyers are often threatened and harassed, sometimes by defendants' relatives, which means Wang is often anxious when she receives calls from numbers she doesn't recognize.
Zhang has had the same experience. He has often been refused permission to examine records of police interrogations, despite having a legal right to do so.
"The refusals mean that I enter court with insufficient material for cases. The lack of information, compared with the evidence put forward by the prosecution, the lack of information makes it harder to make a cogent case for the defense," he said.
Ji, the researcher, recalled the case of a lawyer who was not allowed to talk with his client and was forced to spend a night waiting outside a detention center. In his opinion, basic protection of defense lawyers' rights would be a major step forward.
"It would act as a guideline for judges and prosecutors. When lawyers' rights are not protected, it's unrealistic to ask them to improve the quality of the defense they put forward, let alone raise the number of lawyers willing to undertake such cases," he added.