Long marriages captured on film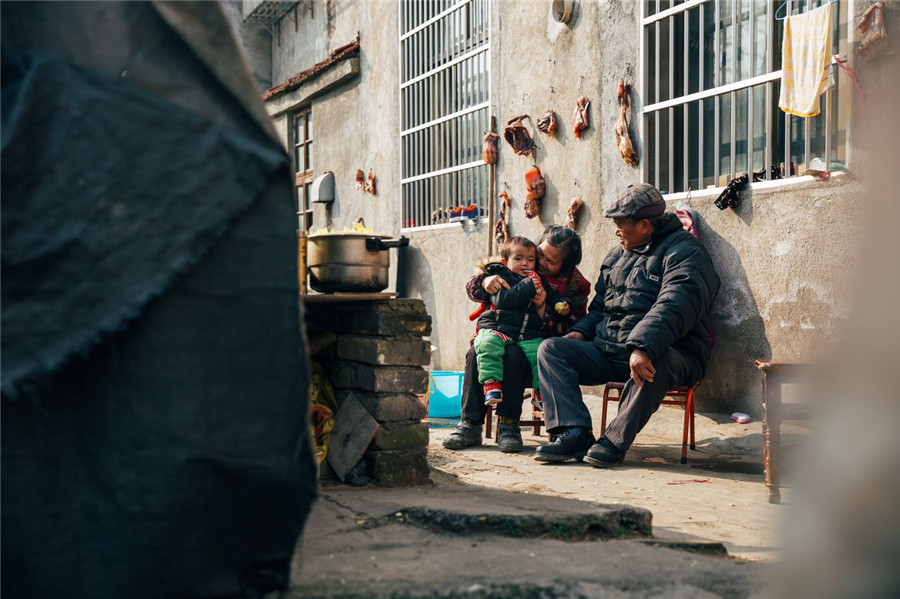 An elderly couple share a warm moment with their grandchild. [Photo by Zhu Simin/For chinadaily.com.cn]
A photographer spent this year's Spring Festival recording the love shared by 18 old couples in the countryside, the Chutian Metropolis Daily reports.
Zhu Simin, 29, is a photographer in Wuhan, Hubei province. While in her husband's hometown of Siwang town in Wuxue city for the holiday, Zhu agreed to take family photos for some neighbors at their request.
As many residents in the village are elderly people aged over 80, Zhu said she hoped to record their images while they were alive.
"My grandpa and grandma died a long time ago. I have never seen an image of them together in their later years," Zhu said.
Sitting in front of the camera, many elderly people felt uneasy and looked stiff. To help them feel relaxed, Zhu told them to try different poses, such as the husband putting a hand around the shoulder of the wife or touching her hand.
"The older generation is not as open-minded as young people. But their love is deep," Zhu said.
Zhu chose some of the romantic photos to post online ahead of Valentine's Day in the hope of touching more people. She also plans to send the photos to her elderly subjects.