School soccer coaches trained by Bayern Munich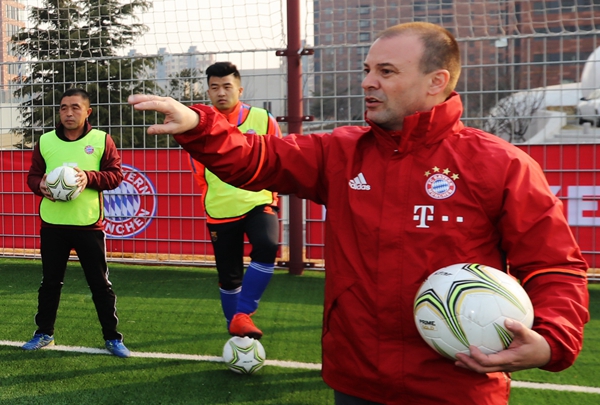 Antonio Vatany, a coach of international programs at Bayern Munich, gives instructions to soccer coaches in Qingdao, Shandong province, on Monday. [Gao Xiaoqiong/For China Daily]
A total of 180 soccer coaches from middle and primary schools in Qingdao, East China's Shandong province, started a training program led by professional coaches from Germany's Bayern Munich on Monday.
The program follows the signing of a soccer partnership agreement in Berlin in November by the Chinese and German governments.
The event is being held at the Qingdao-based Sino-German Ecopark, the only strategic cooperation park in China between the two governments.
It is being led by Sebastian Dremmler, head coach of international programs at Bayern Munich, and his colleague Antonio Vatany, with the program set to run through Feb 24.
"Our responsibility here is to try to teach Chinese soccer teachers about Bayern Munich's youth development philosophy and help them to apply it," Dremmler said.
The Chinese coaches have been divided into four groups, with each group set to receive three days of basic training, including theoretical and practical training.
"Each Chinese coach will be examined after the training and certificates will be awarded those who pass. The coaches who succeed will have an opportunity to attend higher-level training," Dremmler said.
Sui Shiyu, an official from the Qingdao education bureau, said the training is more advanced than most domestic training programs, as the Chinese coaches are being given specific instructions, rather than general guidance.
"Coaches will be graded on their technical ability, classified into different groups based on their performance and then trained accordingly," Sui said.
In October, the Sino-German Ecopark and Bayern Munich signed an agreement in Berlin to set up the first Bayern Munich soccer school in China.
Under the agreement, Bayern Munich - Bundesliga champions for the past four seasons and currently in first position - will send qualified coaches and trainers to China every year to help the development of Chinese soccer coaches and young players.
"The program will help us establish our own training system for soccer coaches in Qingdao and develop youth soccer," Sui said.
China also has a cooperative agreement with Borussia Dortmund, another top German soccer club, focusing on the development of youth soccer. Earlier this month, a group of primary school students in Zhengzhou, Henan province, traveled to Germany to attend a 12-day soccer exchange program with the club.