Home / China / Innovation
Fossil discovery shows reptile with developing embryo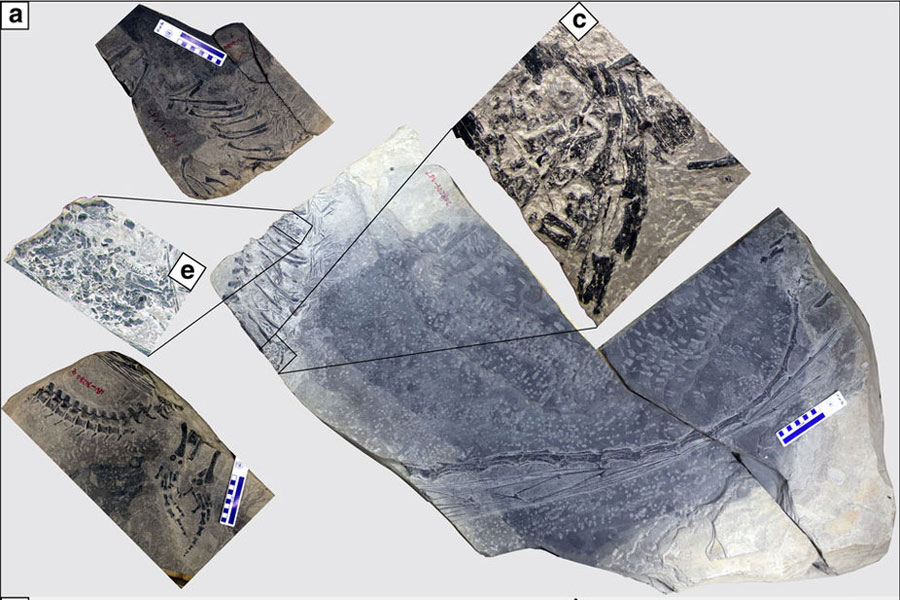 (a) The three separate blocks are arranged following their original positions in the field. (c) Photo showing a close-up of the embryo preserved in the stomach region. (e) Photo showing a close-up of the perleidid fish preserved in the stomach region. [Photos/ nature.com]
A fossil of a long-necked marine reptile that lived 245 million years ago was found with a developing embryo, signifying the animal had live birth reproductive capabilities, a Chinese scientist said.
The discovery pushes back evidence of reproductive biology in the clade archosauromorpha family by roughly 50 million years, said Liu Jun, an associate professor from Hefei University of Technology.
The discovery has been published in the article "Live birth in an archosauromorph reptile" in Nature Communications, an international science journal, on Feb 14.
The reptile dinocephalosaurus lived in the Middle Triassic period, even earlier than dinosaurs. They belong to the clade archosauromorpha, a group that first evolved about 260 million years ago and is represented today in birds and crocodiles.
The fossil specimen was collected in 2008 from a geological park in Luoping county, Yunnan province.
Liu said researchers first identified a large reptile as an adult maternal dinocephalosaurus, and recognized a smaller reptile as an embryo of the adult.
The embryo is completely enclosed within the adult's body, so this excludes the possibility of superposition. The embryo's neck points forward, the same direction as the adult, different from prey animals being digested.
"In aquatic amniotes, prey is usually swallowed head-first and this orientation is maintained during digestion and disarticulation," Liu wrote in his article.
Further, Liu said that researchers have not found any elements of a calcified eggshell around the embryo's skeleton, which proves the animal gave birth instead of laying eggs.
Liu said that their research on phylogenetic models has shown that the dinocephalosaurus determined the sex of their offspring by sex chromosomes rather than by environmental temperature like crocodiles.
The dinocephalosaurus dominated the oceans at that time because of their live birth abilities and sex determining mechanism, Liu said.