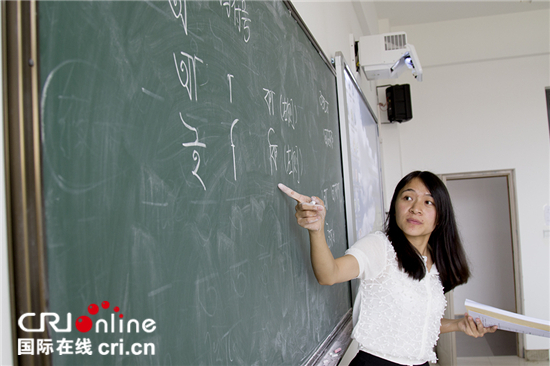 Gao Ruihong at the class. [Photo/CRI Online]
After graduating from university last year, Gao Ruihong was recruited as a teacher at Yunnan Minzu University (YMU) to assist in the establishment of the Bengali major, which made her the youngest Bengali teacher in China.
Gao's first lesson to the students included writing and pronouncing Bengali vowels, and the young teacher found the students struggling with pronunciation.
"Many pronunciations in Bengali do not exist in Chinese, and my primary task is to let them master the pronunciation."
It seems the young teacher was prepared for the tough task of teaching Bengali as none of her student was familiar with the language before enrolling in the course. Bengali has remained in a weak position in China's language teaching, even among the minority languages.
According to a study released by the Ministry of Education and State Language Commission last year, more than 40 languages are spoken in the countries along the route of Belt and Road Initiative, however, only 20 of them are taught in Chinese universities, with students enrolled in Bengali major numbering less than 50 in 2015.
"China has been focusing more on large regions such as the United States and the Europe, and sufficient attention has not been paid to smaller neighboring countries," said Yang Cheng, professor of East China Normal University.
More than 80 percent of Chinese scholars choose India when it comes to South Asia studies, and that means other South Asian countries such as Bangladesh go unnoticed.
"The lack of knowledge about countries along the Road and Belt Initiative has to be altered now, and we need to do some basic research on neighboring countries so as to provide support to the country's strategic measures," added the professor.
Three top foreign language universities announced plans to set up more language majors as part of the country's strategic requirements last year. For instance, Beijing Foreign Studies University plans to set up all language majors of countries having diplomatic ties with China by 2020, that is to say, a total of 38 minority language majors will be established in the next few years.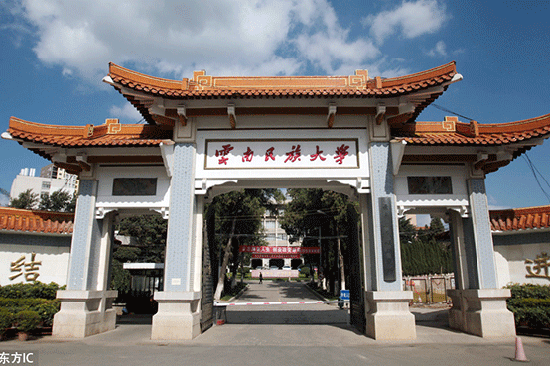 Yunnan Minzu University has been just approved to offer major in Bengali from February this year. [Photo/IC]
YMU has announced similar steps.
The university, located in Southwest China's Yunnan province, which is geographically quite close to South Asian countries such as Bangladesh, has been just approved to offer major in Bengali from February this year, making it the second university in China to offer undergraduate courses in this subject, following the Communication University of China, from which Gao got her bachelor's degree in Bengali.
As the first major being set up after the establishment of the South Asia Institute of YMU, the Bengali major is generating lots of expectations at the university.
Professor Bai Kaiyuan, a senior translator of Bengali department, China Radio International, has been invited by the university to train young teachers like Gao. Bai will also preside over the compilation of Bengali textbooks for the university as a distinguished professor.
Bai plans to develop the textbooks in three volumes based on the practical goal of the university. The first volume is expected to be finished within the year, with the first 20 lessons focusing on Bengali pronunciation, grammar, and dialogue, and the last 20 lessons covering China-Bangladesh economic exchange and works of Indian literary giant Tagore.
The 18 freshmen of the Bengali major this year are not ready to evaluate Gao's teaching since the course has just begun, however, they are looking forward to their four–year course.
Yang Hongling, one of the students, found learning the language "hard but promising". "The country is putting more emphasizes on the relations with South Asian countries, and I believe we will have very broad career prospects," said the student.
Yang is correct. The Belt and Road Initiative, as well as BCIM (Bangladesh, China, India and Myanmar) economic corridors will increase trade, transport, tourism and investment between China, Bangladesh, and other South Asian countries.
Infrastructure connection remains a major field of the Belt and Road Initiative. And many graduates of minority languages have been active in cooperation projects with neighboring countries such as Laos and Thailand.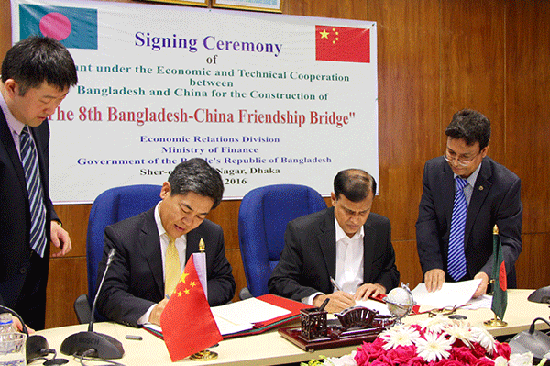 Chinese ambassador Ma Mingqiang signed the Agreement on Economic and Technical Cooperation between China and Bangladesh in Dhaka, Bangladesh on April 7, 2016.[Photo/Xinhua]
However, the grasp of languages of many countries along the route of the Belt and Road Initiative, especially unfamiliar languages, still has a long way to go in China. This offers both challenges and opportunities to minority language students like Yang.
According to the institute, five new minority language majors - Urdu, Nepali, Sinhala, Tamil, and Pushtu - are expected to be approved by the Ministry of Education next year.
And the rise of Bengali teaching at YMU will be just a start of the bloom of foreign languages in China.
CRI Online also contributed to this story.