Chinese embroidery is going to make a mark at the 8th BRICS Summit in India as four Chinese gurus have been invited to create handcrafted gifts for leaders of the five emerging economies during the summit over the weekend.
Bringing Chinese craftsmen's glory to the world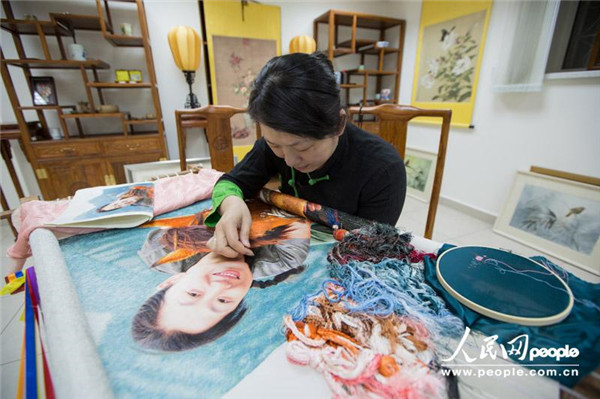 File photo shows Jin Jiahong stitching a piece of traditional Hangzhou embroidery in Moscow, Russia, on Dec 5, 2013. [Photo/people.com.cn] 
Jin Jiahong, an inheritor of Hangzhou embroidery, is joining the other three masters to display the traditional Chinese handicraft in India, the host nation of the 2016 BRICS Summit. Together with artisans from the other four BRICS countries (Brazil, Russia, India and South Africa), they will collaborate on design and produce a set of embroidered gifts for the upcoming summit.
"Exquisite gifts we create will include handbags, pillow cases and scarves," said Jin Jiahong, who has been working to upgrade the stitching patterns of Hangzhou embroidery for 30 years.
"In the meantime, I have also participated in the design of the logo for the summit, a blooming lotus with five different colors of petals representing the five nations. The logo itself is quite artistic and meaningful," Jin added.
Hangzhou is well-known for its rich history of producing silk and silk-related products that goes back thousands of years. Hangzhou embroidery can be dated back to the Warring States Era of ancient China and peaked during the Southern Song Dynasty, when Hangzhou became the capital city.
Meanwhile, three other masters, representing Suzhou embroidery (Su Xiu), crewel embroidery and Hunan embroidery respectively, were also chosen to attend the 10-day workshop.
Mutual learning process for artisans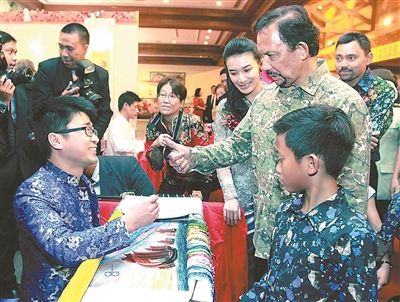 File photo shows Fu Jian receiving a thumb up from Sultan of Brunei Hassanal Bolkiah while stitching a piece of crewel embroidery in Brunei on March 16, 2015. [Photo/Xinhua] 
Fu Jian, an expert in crewel embroidery, sees the high-level workshop as a great inspiration. "During the exchanges, we, the Chinese artisans, have learned the latest embroidery techniques from masters from the other four countries. I am particularly interested in the bead embroidery from India," said Fu.
Influenced by his father, the 29-year-old started exploring crewel embroidery at a very young age. Back in 2008, Fu established an embroidery institute and provided job opportunities for more than 200 rural women in Yangzhou, Jiangsu province.
"The technique of India's bead embroidery is very unique. I believe we could incorporate it into our traditional stitch work and develop more practical handicraft products in future," Fu said.
Organized by the Export-Import Bank of India, the exchange event also aims to enhance global markets for handcrafted products and show respect to craftsmen around the world.