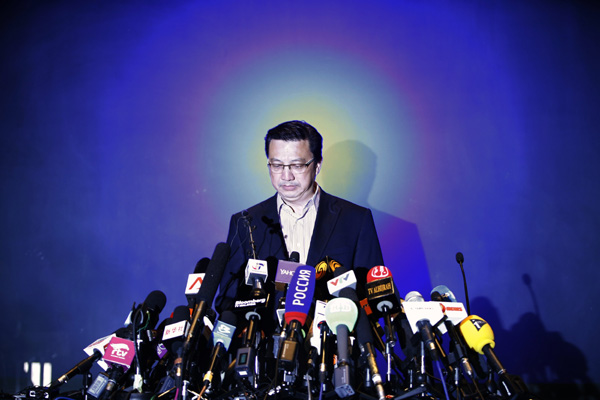 Malaysia's Transport Minister Liow Tiong Lai speaks during a news conference at a hotel near the Kuala Lumpur International Airport in Sepang July 19, 2014. [Photo/Agencies]
KUALA LUMPUR - Malaysian Transport Minister Liow Tiong Lai said here Saturday that the flight path of the crashed MH17 was set out by the international aviation authorities, approved by Eurocontrol, and used by other airlines.
"It flew at an altitude set, and deemed safe, by the local air traffic control. And it never strayed into restricted airspace," the minister told a press conference.
He called for all parties to protect the integrity of the crash site and to allow the investigation to proceed.
"Interfering with the scene of the crash risks undermining the investigation itself. Any actions that prevent us from learning the truth about what happened to MH17 cannot be tolerated," said the official.
Liow said Malaysia's task force arrived in Kiev, capital of Ukraine earlier on Saturday, and he, joined by the director of general of the Department of Civil Aviation, the Malaysian investigator in charge, and the Chairman of Malaysia Airlines, would go to Kiev as well.
"The CEO of Malaysia Airlines is already in Kiev," he said.
The minister said it appeared that MH17 was shot down and its passengers and crew were killed by a missile.
Liow also said the Malaysia Airlines would release the full passenger manifest after the press conference.
When asked by Xinhua about the measures to be taken to ensure the investigation work to be fair and objective, Liow said the Malaysian authorities had asked for the forming of an independent investigation team and two Malaysian experts had been sent to assist the ongoing probe work.