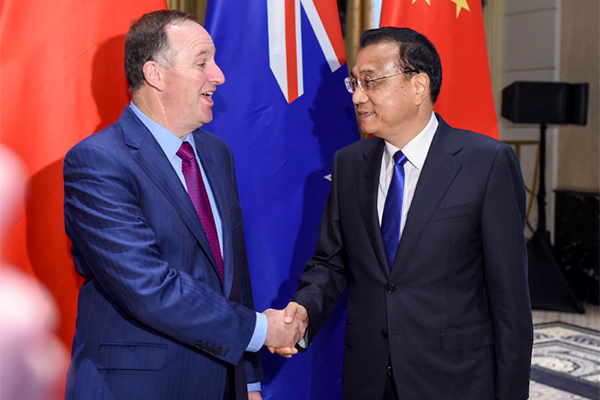 Premier Li Keqiang met with New Zealand Prime Minister John Key in New York on Sept 19, and discussed relations between China and New Zealand.
Currently, China-New Zealand relations have good momentum. Economic and trade cooperation is proceeding well, and the two countries have good communication in international and regional affairs, according to Premier Li.
China is willing to make joint efforts with New Zealand to promote political mutual trust, maintain high-level exchanges, further pragmatic cooperation in economy and trade, strengthen law enforcement cooperation, and maintain close communication and coordination in multilateral affairs, he said.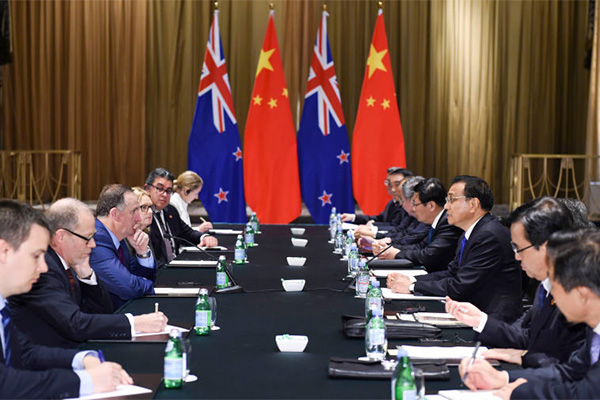 Key said that China-New Zealand relations are developing smoothly and the two countries saw frequent high-level exchanges. New Zealand attaches great importance to its relations with China and is willing to strengthen cooperation in sectors such as economy and trade and law enforcement, promoting further development of bilateral relations.
As the rotating presidency of the United Nations Security Council, New Zealand speaks highly of China's constructive role in international affairs, he said.
They also exchanged views on the Syria issue and the Korean Peninsula nuclear issue, and Premier Li stated China's principled position on those issues.