Xi says cooperation 'key factor' for peace
By An Baijie ( China Daily )
Updated: 2016-03-26 03:15:19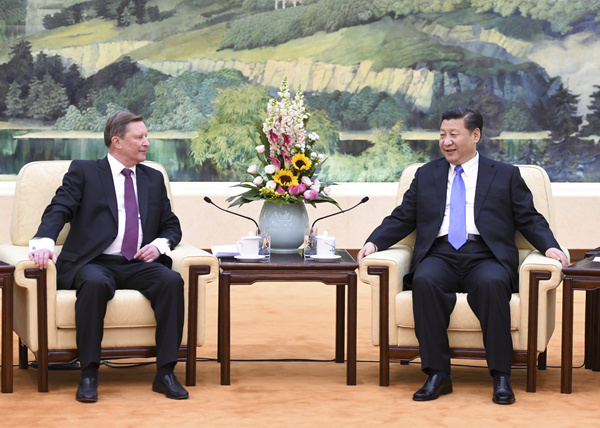 Chinese President Xi Jinping (right) meets with Russian Presidential Administration chief Sergei Ivanov at the Great Hall of the People in Beijing, March 25, 2016. [Photo/Xinhua]
The strategic cooperation between China and Russia is a "key factor" in maintaining global and regional peace and stability, President Xi Jinping said on Friday.
Since China and Russia are each other's most important strategic cooperative partner, the development of their relationship is a joint choice and has been prioritized in the diplomacy of both countries, Xi told Sergei Ivanov, Russia's visiting presidential chief of staff and the country's former defense minister.
The two countries should enhance communication and coordination in international and regional affairs, as well as work together to push forward the resolution of major issues, Xi said.
The president expressed his support for the current communication mechanism, under which the General Office of the Communist Party of China Central Committee established direct ties with the Russian presidential administration.
It is the first of its kind established by the General Office and the administration of a foreign country.
The mechanism has played a positive role in boosting communications between the leaders of the two countries, Xi said, adding that he has been in close contact with Russian President Vladimir Putin in recent years.
Ivanov said Putin is preparing for his visit to China in June, and the two presidents have arranged a series of meetings for this year, according to the Russian news agency Sputnik News.
Ivanov has also met with other senior officials including Wang Qishan, China's top anti-graft official; Li Zhanshu, director of the General Office of the CPC Central Committee; and Liu Qibao, head of the Publicity Department of the CPC Central Committee.
In his talks with Wang, Ivanov said Russia attached great importance to the exchanges and cooperation with China in fighting corruption, China's Foreign Ministry said.
Chen Yurong, a senior researcher at the China Institute of International Studies, said China and Russia share many common interests in areas including geographic politics, business and security. As a result, the two countries have a strong desire to enhance cooperation, Chen said.

We will not give up search, Li vows
International hunt for missing airliner continues after fruitless six-day search