Media's role highlighted for China-Russia strategic trust
By ZHANG YUNBI and REN QI ( chinadaily.com.cn )
Updated: 2016-03-25 18:36:58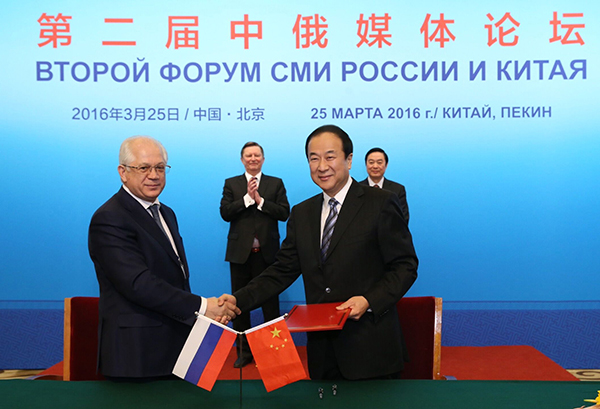 Zhu Ling, publisher of China Daily, and Pavel Negoitsa, publisher of leading Russian newspaper Rossiystaya Gazeta, signed a framework agreement regarding long-term cooperation between the newspapers on Friday in Beijing. [Photo by Xu Jingxing/China Daily]
Strategic trust and coordination between Russia and China will be enhanced by the media in both countries, a senior Chinese official said at the opening ceremony of the second China-Russia Media Forum in Beijing on Friday.
The forum will help media outlets in the countries become "close partners" and boost friendship among their peoples, said Liu Qibao, a member of the Political Bureau of the Communist Party of China (CPC) Central Committee and head of the CPC Central Committee's Publicity Department.
Leading members of the media from the two countries signed 10 cooperative agreements at a ceremony overseen by Liu and Russian presidential administration chief Sergei Ivanov.
Zhu Ling, publisher of China Daily, and Pavel Negoitsa, publisher of leading Russian newspaper Rossiystaya Gazeta, signed a framework agreement on long-term cooperation between the newspapers, including China Daily issuing a Russian language edition of "China Watch" in Russia.
"This is not the first time that we have cooperated with China Daily," Negoitsa said. "We all know China Daily is deeply experienced in telling the Chinese story, which Russian readers are particularly interested in recently.
"We believe China Watch will gain lots of loyal readers in Russia," he added.
At a panel session of the forum, Zhu said that for the Chinese media, "the international communication strategies and measures taken by their Russian counterparts deserve to be learned from", and pragmatic cooperation should be expanded.
He also proposed strengthening exchanges of media content, co-hosting events, expanding exchanges of visits and cooperating on new media services.
Year of media exchanges
This year marks the start of the China-Russia Year of Media Exchanges, which was jointly announced by President Xi Jinping and his Russian counterpart Vladimir Putin in May last year during Xi's visit to Russia.
Liu said the Year of Media Exchanges is of "a program of major exchanges and an important measure to strengthen people-to-people friendship".
Media from both countries will help translate the high-level two-way political ties into "more results that reflect the pragmatic cooperation", Liu said.

We will not give up search, Li vows
International hunt for missing airliner continues after fruitless six-day search