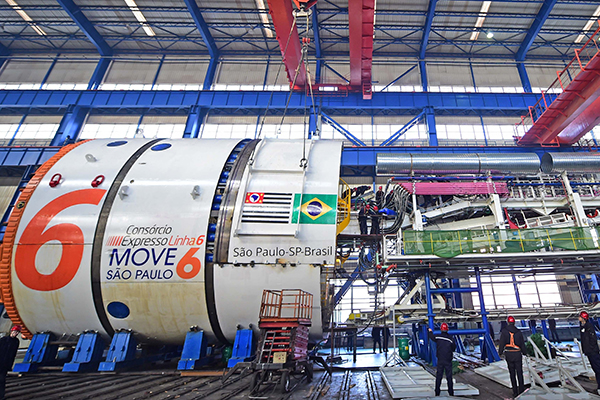 Workers at Shenyang North Heavy Industries Group Co Ltd dismantle the shield-tunneling equipment ready for export to Brazil. [Photo/Xinhua]
Mayor of Shenyang says city's industrial manufacturers poised to change direction
New policies will be introduced soon to support the rejuvenation of traditional industrial hubs in China's northeastern provinces, and to help boost the performances of its listed manufacturing companies.
Speaking at the Boao Forum for Asia in Hainan on Thursday, Pan Liguo, the mayor of Shenyang, capital of Liaoning province, said a circular from the central government has been circulated there and in Heilongjiang and Jilin provinces outlining the plans.
It sets out a blueprint for what's being called the "one belt, five bases" policy, which will help industrial companies in those provinces shift toward technology-driven manufacturing.
One belt refers to the country's economic support network, while the bases will cover advanced equipment manufacturing, raw materials, agricultural modernization, and scientific and technological innovation.
"Equipment manufacturing is Shenyang's core industry," Pan said.
"We have formulated relevant, complementary plans to seize the opportunities being presented within what is a national economic shift toward technology investment."
Northeastern China has a long history of heavy industry, including in steelmaking, oil drilling and automobile manufacturing.
However, the region has been facing difficulties of overcapacity and mounting environmental pressure in recent years, with many of the major players that were central to its economic development, becoming drains on public resources.
Analysts now say that as new measures aim to reshape the country's regional economic growth, which encourage emerging industries, listed industrial companies in the northeast should be focusing more resources toward research and development of new technologies.
A research note from Sealand Securities Ltd said companies in the region would benefit greatly from expanding their number of joint ventures, and creating emerging industrial zones, which could attract new technology and talent, to help modernize local industry chains.
One advanced equipment manufacturing industrial park in Shenyang, for instance, already plays host to 35 German companies, and further resources are expected to be invested there into R&D, which should help add value to products, and improve profit margins.
Another research note from Changjiang Securities Co suggests listed heavy machinery, robotics and agricultural companies in Jilin, Liaoning and Heilongjiang provinces are the most likely to benefit from the new measures, as those sectors can be transformed and upgraded with the help of new technologies, over a shorter timescale.
The note said shares in such companies, whose prices have fallen, are likely to recover as technology and product investment start to pay off, improving revenues.