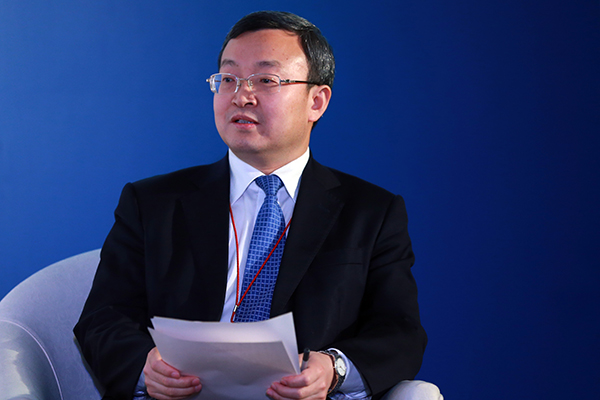 Wang Shouwen, vice-minister of commerce. [Photo provided to China Daily]
China's goal to enlarge its import volume over the next five years will stimulate services trade opportunities for developed countries as the government is offering wider market access to global companies, a senior official said on Thursday.
Vice-Minister of Commerce Wang Shouwen said the services sector has become an important driver for China's economic growth and has great significance for the next step in economic restructuring.
His comment came hours after Premier Li Keqiang told the annual Boao Forum for Asia in Hainan province that China will import more than $10 trillion worth of goods and invest $600 billion overseas in the next five years.
Services trade refers to the sale and delivery of an intangible product, such as tourism, financial services and telecommunications services.
Thanks to China's rising domestic demand for insurance, culture, telecommunications and information service, the country's services import reached $424.81 billion in 2015, up 18.6 percent on a year-on-year basis, data from the Ministry of Commerce showed.
"We will import more service business from the United States in the long run, as its services market is quite mature and advanced," said Wang.
"They are also keen to invest in healthcare, environmental protection, pharmaceuticals, communication and information services in China, as well as in high-tech industries that are being developed more slowly than the overall pace of development."
Eager to enhance their earning abilities, US companies such as coffee chain Starbucks Corp plans to open 500 stores this year in China, its largest foreign market, and aims to create 10,000 jobs a year until 2019.
Uber Technologies Inc, the ride-hailing company based in the US, has also committed to invest 6.3 billion yuan ($1 billion) in China to diversify its business, which ranges from transportation services to automotive financing.
Even though China's foreign trade value fell to $3.96 trillion in 2015, down 8 percent year-on-year, its foreign trade in goods, export value and total online retail sales ranked first in the world. The country's total retail sales and trade in services ranked second globally during the same period.
Josette Sheeran, president of the Asia Society, a nonprofit organization based in New York, said as global economic competition is more intensifying this year, opening more services sectors would provide more opportunities for increased foreign direct investment in China and help contribute to the government's goal of growing the services industry.
"As Chinese companies carry out a 'going global' strategy to expand their global presence, they can certainly partner with European and US companies to gain efficient financing, legal and risk management services," said Lin Guijun, a professor of international trade at the University of International Business and Economics in Beijing.