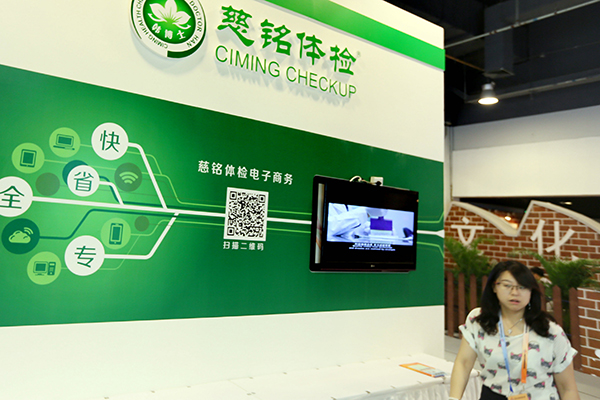 A stand of Ciming Health Checkup Management Croup at an expo in Beijing, May 30, 2014. [Photo/VCG]
A leading Chinese healthcare company plans to save the long-distance trips by those seeking advanced medical services abroad by bringing in some of the best foreign doctors, medicines and equipment home.
Hu Bo, chairman of Ciming Health Checkup Management Croup Co Ltd, said the company has already invested in two medical facilities in the pilot medical tourism zone in the southern Chinese island province of Hainan.
"The pilot zone can work as a great platform to bring in new medical technologies and medicines to China, which has a growing demand for healthcare services," he told China Daily on the sidelines of the Boao Forum for Asia.
Ciming has become China's largest health checkup service provider following its recent takeover by its former competitor Meinian Onehealth Healthcare (Group) Co Ltd.
The Boao Lecheng International Medical Tourism Pilot Zone, the first of its kind in China, was approved by the State Council in 2013. According to the Hainan provincial government, the goal is to turn the pilot zone into a cluster of high-end medical talent and a world-class medical tourism destination in about 10 years.
The central government is supporting its development by offering a number of preferential policies under which foreign companies will be able to set up medical organizations in the zone and foreign doctors will be allowed to practise there for up to three years.
About 20 medical projects, including Ciming's, are being established in the zone, which kicked off construction in August 2015 and is expected to start operation in 2017.
Hu said Ciming's investment in the zone is between 300 million yuan ($46 million) and 500 million yuan.
"We have two projects in the zone. One is a hospital, which will target those who suffer from chronic diseases such as high blood pressure. The other is a medical center serving patients suffering infertility."
According to him, it takes a long time to bring foreign medicines and medical equipment into China.
"But the process is expected to be largely simplified in the zone, making it easier to adopt matured Western medical technologies," he said.
Chinese spent more than $10 billion traveling abroad for healthcare services in 2014, according to a report from the nonprofit Stanford Research Institute International, based in the United States.
The report projected that the medical tourism market worldwide is expected to grow to $678.5 billion in 2017 from $438.6 billion in 2013.