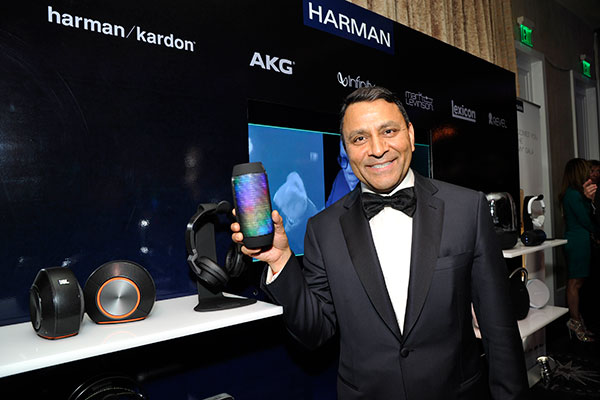 Paliwal showing reddot award winning JBL Pulse. [Photo provided to chinadaily.com.cn]
Car-audio producer to partner with Chinese automakers for full range of vehicles
New York-listed Harman International Industries Inc, one of the world's largest car-audio makers and connected technology providers for automotive, consumer and enterprise markets, has launched a global product development center in Suzhou, Jiangsu province, eyeing expanding demand in China.
The center in Suzhou will work closely with fast-growing automakers including BAIC Motor Corp, BYD Co, Changan Automobile Group, Chery Automobile Co, Zhejiang Geely Holding Group, Great Wall Motor Co and SAIC-GM Corp, and will specifically allocate resources to develop products to serve the expanding cost-effective automotive segment, said Dinesh Paliwal, Harman's chairman, president and chief executive officer.
The company will make further investments in research and development and human resources, according to Paliwal, who did not disclose further details of the plans.
In the past, Harman offered car-audio and infotainment systems exclusively to high-end, luxury automobile brands, but now it is offering products to a wider range of vehicles.
China has become one of Harman's fastest-growing markets, which accounted for approximately $700 million in revenue, with an annualized growth rate of approximately 53 percent over the past six years.
Harman sees increasing demand for affordable car-audio and connectivity systems from China's younger consumers who attach great importance to customer experience and quality, which is also one of Harman's greatest assets, said Paliwal.
According to the latest survey of car-audio and infotainment system in vehicles in China by market research services provider The Nielsen Co, some 73 percent of respondents said they would pay more for better experience using car-audio systems.
The company's research and development facilities in China will seek to develop products leveraging technologies including artificial intelligence, self-driving, vehicle-to-vehicle information sharing system, cloud computing and big-data analysis.
The government has defined a goal to transform from a big manufacturer to a strong one with a focus on smart manufacturing, and Harman's strategy to build up vertical integration from design to manufacturing is in alignment with this goal, which seamlessly integrates the value chain from product research and development, design and pilot testing, to mass production, said Paliwal.
He said the largest consolidator of market is its fast-developing technologies, as well as the trend requiring a better customer experience without compromising safety and security.
The company is open to mergers and acquisitions to further expand its market share in the connected car and car-audio businesses, but it is also deploying more resources to sharpen its research advantages, including cultivating talent by promoting employees with local know-how to senior positions, said Paliwal.