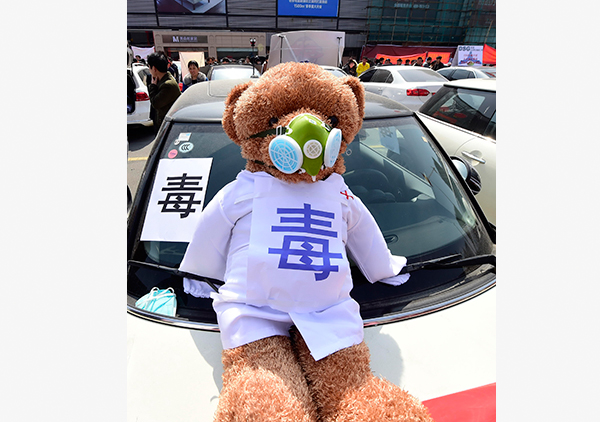 A car owner expresses dissatisfaction with his car by displaying a stuffed bear wearing a gas mask and a T-shirt that says "noxious" at the "Problem Auto Expo" in Hangzhou, Zhejiang province, on March 15. The event, held to coincide with World Consumer Rights Day, attracted hundreds of car owners who have complaints about their vehicles. [Photo/China Daily]
As revenue growth accelerates, Chinese producers are failing to heed buyer complaints about services, experts say
Though carmakers escaped from being named and shamed in China's annual consumer rights expose, the 315 Evening Gala, on Tuesday, auto-related quality issues are still a pain for many of the country's drivers.
The national broadcast uncovers suspected business misconduct each year on March 15, which is World Consumer Rights Day, and auto products and services have been exposed by the gala's investigative work in recent years. And with good reason-according to the China Consumers Association, there have been a growing number of vehicle complaints.
Last year, complaints about auto products (including auto parts) accepted by the association reached a record 18,863, up 31.18 percent year-on-year.
Problems with quality, after-sales services and contracts drew the most consumer complaints, accounting for 30.5 percent, 21.76 percent and 20.76 percent, respectively, of the year's total complaints.
Chinese auto brands drew about 14.5 percent of total complaints, with 2,739, last year. German brands fielded about 13.9 percent, with 2,612, while American brands received about 12.8 percent of total complaints, with 2,409.
SAIC-GM, a Sino-US joint venture, received the most complaints with 1,355, almost double the figure of Sino-Germany joint venture FAW-Volkswagen, who received 686.
According to a satisfaction survey report from China Consumers Association and several provincial-level consumer associations, the most-mentioned problems include: car buyers not immediately receiving their vehicle certifications from dealers, repairs not completely fixing problems, the not-so-free services under the car's warranty, and difficulties filing compensation claims.
Data from the National Bureau of Statistics show that private vehicle ownership in China rose 14.4 percent year-on-year in 2015 and reached 143.99 million units; and private passenger car ownership reached 7.93 million, up 15.8 percent year-on-year.
"The growth of vehicle ownership, the high-cost pressure caused by fierce competition, and consumers' rising awareness of their rights are leading to a growing number of auto product complaints," said Yale Zhang, managing director of Automotive Foresight (Shanghai).
The proportion of complaints of local auto brands grew in 2015 compared to the year before because of what Zhang called "the crazy growth of local brands' market share".
He added that Chinese brands are gaining a bigger piece of the market share faster compared to other brands, which is resulting in many problems.
"Some carmakers might care little about quality to seize opportunities," he said.
To raise customer satisfaction, Zhang thinks the fierce market competition will eventually clean out unqualified companies.
"The quality will get better after the market becomes stable," he said.