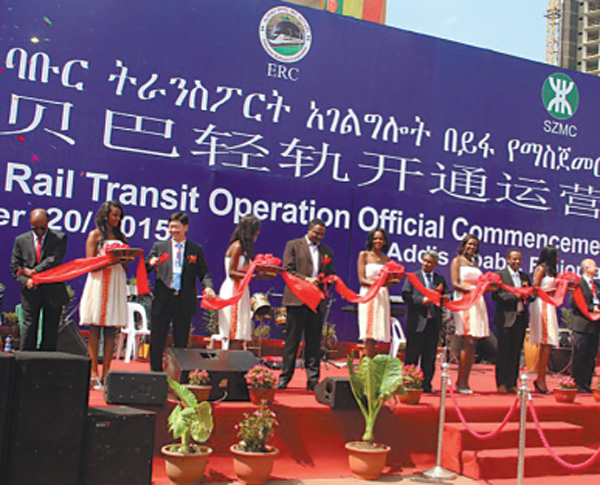 A ceremony was held in September to celebrate the launching of the Addis Ababa light rail line that uses CRSC's signal systems. Photo provided for China Daily
China Railway Signal and Communication Co Ltd, the world's largest railway control solution provider by market share, will provide advanced train control systems to the Mombasa-Nairobi standard-gauge railway.
Employees of the Chinese company have begun to conduct location surveys along the 480-kilometer line, which involves investments of $3.8 billion and will link the two biggest cities in Kenya once it becomes operational in 2017.
As part of a bilateral agreement signed during Premier Li Keqiang's May 2014 visit to Kenya, the Mombasa-Nairobi line will be Kenya's first new railway in the past century and is built with Chinese technologies.
The project started on Jan 1 and its major builder, China Road and Bridge Corp, has finished more than 55 percent of the line, local media reported.
For its part, CRSC has pledged to use mainly local workers for the railway, saying it will train local people in the required knowledge and skills needed for railway construction and operation. Chinese employees will share their rich experience in rail projects with local workers, the company said. It vowed to make the line a symbol of friendship and cooperation.
This is not the first time China has sent railway signal and communication technicians to assist African nations in building their railways. In the 1970s, many Chinese railway signal engineers surveyed and helped design the 1,860-km Tazara Railway, which links the port of Dar es Salaam in Tanzania with the town of Kapiri Mposhi in Zambia and remains China's largest aid project in Africa.
CRSC offers its clients a package that covers almost everything needed to operate a modern railway. It has strong capabilities in design, development, integration manufacturing, installation, commissioning and after-sale service for rail transport control systems, which are considered to be the brain of a high-speed line.
The State-owned giant has contributed greatly to the six campaigns to speed up the nation's trains since the late 1990s, enabling trains to obtain average speeds of 200 km/h, from 48 km/h in the early 1990s.
The nation's high-speed rail network will extend to about 19,000 km by the end of this year, far longer than any other country's and larger than the European Union's entire high-speed rail network, according to China Railway Corp.
Most of the vast high-speed railway network is equipped with CRSC's core control systems. The smooth operation of the many bullet trains in China every day is testament to the reliability of the company's technologies and products.
Huang Weizhong, vice-president for technology and overseas operations at CRSC, said: "The company's technologies and products have met related European standards. Moreover, we can offer a very competitive cost-performance ratio thanks to China's comparatively low cost in human resources and manufacturing processes."
In addition to railways, CRSC also provides its technologies to urban transit lines in Chinese cities using software and hardware made by the company.
CRSC's signal systems are also used in the Addis Ababa light rail line, which started service in the Ethiopian capital in September. Its products are also being used for the Kochi metro line in India, which is expected to be completed by June.
The company expects to sign a contract with Sydney to introduce its products to the Australian city's urban transit network.
Zhou Zhiliang, CRSC chairman, said the company would take part in a number of overseas railway projects such as the Jakarta-Bandung high-speed link in Indonesia, the Moscow-Kazan high-speed line in Russia and the California high-speed rail line in the United States.