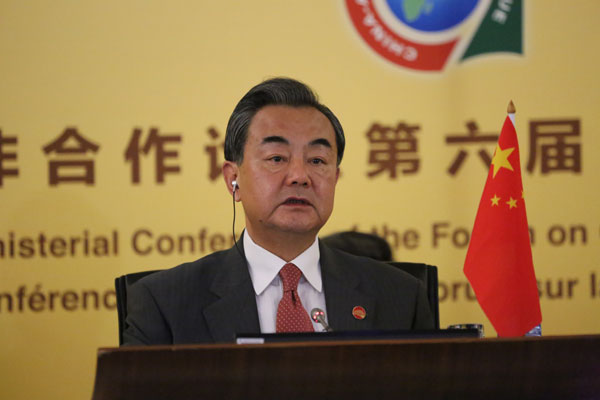 Chinese Foreign Minister Wang Yi delivers a report at the Sixth Ministerial Conference of The Forum on China-Africa Cooperation held in Pretoria, South Africa Dec 3, 2015.[Photo by Hou Liqiang/chinadaily.com.cn]
Chinese Minister of Foreign Affairs Wang Yi delivered a report at the Sixth Ministerial Conference of The Forum on China-Africa Cooperation held in Pretoria, South Africa Thursday.
The following is the full text of Wang's report.
Report by H.E. Wang Yi Minister of Foreign Affairs of The People's Republic of China
At the Sixth Ministerial Conference of The Forum on China-Africa Cooperation
Pretoria, 3 December 2015
Colleagues,
Ladies and Gentlemen,
Friends,
It gives me great honor to deliver a report on the follow-up actions of the Fifth Ministerial Conference of FOCAC on behalf of the Chinese FOCAC Follow-up Committee.
 In accordance with the Beijing Declaration and the Beijing Action Plan (2013-2015) adopted at the Fifth Ministerial Conference in Beijing in July 2012, the Chinese government announced a package of new measures for cooperation with Africa, covering five key areas, namely, investment and financing, assistance, African integration, people-to-people exchanges, and peace and security in Africa. Thanks to our joint efforts in the past three years and more, solid progress has been made in the follow-up actions in the five key areas. We have accomplished and even exceeded our set targets. Here is what we have achieved.
First, China and Africa have deepened strategic mutual trust and traditional friendship. The frequent political exchanges and dialogue between the two sides have provided further guidance for China-Africa cooperation. In March 2013, President Xi Jinping visited three African countries, he this became the first Chinese president to choose Africa as the destination of his first overseas trip after taking office. During the visit, he put forward the principles of sincerity, practical results, affinity and good faith as well as the approach of upholding the values of friendship, justice and shared interests, charting the course for the growth and China-Africa relations in the new era. In May 2014, Premier Li Keqiang visited Africa, where he proposed the initiatives of "Six Major Projects" and "Three Major Networks" for China-Africa cooperation and laid out overall plans for advancing China-Africa cooperation. Leaders of the two sides have also held frequent bilateral meetings at the UN and other multilateral fora. Other Chinese leaders have visited Africa many times as well, including Chairman of the National People's Congress Zhang Dejiang, Chairman of the Chinese People's Political Consultative Conference Yu Zhengsheng and State Councilor Yang Jiechi.
Over the past three years and more, many African leaders have visited China or attended important events in China, including 46 heads of state or government, 11 speakers of parliament, and 22 vice presidents or deputy prime ministers. The number and frequency of such visits have been much higher than before. This fully demonstrates that China-Africa relations are high on the diplomatic agenda of leaders of both sides.
Chinese foreign ministers have a tradition of visiting Africa on their overseas trip each year. I myself have kept this tradition. I have paid visits to 16 African countries and received 50 African foreign ministers in China. I have also attended the Third Round of Political Consultations Between Chinese and African Foreign Ministers in New York in September 2013, and held strategic dialogues or foreign ministry political consultations with my counterparts from 12 African countries.
Confronted with an increasingly complicated regional and international landscape, China and Africa have extended mutual understanding and support on issues concerning each other's core interests and major concerns. China has all along supported African countries in independently choosing and improving development paths suited to their own conditions, and opposed external interference in Africa's internal affairs. Meanwhile, on issues concerning China's core and major interests such as sovereignty, security and development, African countries have always firmly supported China's positions and propositions. At international fora, the two sides have maintained close cooperation on global issues such as the UN reform, climate change, the 2030 Agenda for Sustainable Development and counter-terrorism, and upheld the common interests of China and Africa and other developing countries.
In August last year, the Ebola epidemic broke out in West Africa. At this critical moment when the African people are faced with grave dangers and difficulties, the Chinese government took the lead in offering prompt assistance. We carried out the largest overseas campaign of medical assistance since the founding of New China. We provided a large number of epidemic prevention and treatment materials for the people of the three affected countries with 23 chartered flights. We did not withdraw a single diplomat or expert. Instead, we sent to those countries over 1,200 medical experts and workers who fought shoulder to shoulder with the local people. In August this year, President Xi Jinping instructed me to visit the three affected countries in West Africa and explore the cooperation opportunities with them in post-Ebola economies and social reconstruction. Our joint fight against Ebola provides a vital example of the brotherly friendship between China and Africa and opens a new chapter of China-Africa solidarity through thick and thin. We feel heartened and proud that we were the first to extend a helping hand and offer full support to our African brothers in their successful fight against Ebola.
Second, China-Africa practical cooperation has brought fruitful benefits to the people of both sides. China has been Africa's biggest trading partner for six years in a row. And China-Africa trade has been above US$200 billion for two consecutive years. China has further opened its market to Africa, giving zero-tariff treatment to 21 African countries for exports under 97% of tariff items.
In the past three years, China offered US$31.52 billion of credit lines to African countries, exceeding its US$20 commitment. By the end of 2014, the stock of China's non-financial direct investment in Africa topped US$32.35 billion. Over 3,000 Chinese companies are operating in Africa. With Chinese investment in Africa growing much faster than trade with Africa, the structure of China-Africa economic cooperation is getting optimized.
China-Africa cooperation in industrialization has delivered new fruits. China fully supports African countries in removing the two major bottlenecks impeding development, namely backward infrastructure and inadequate skilled personnel. The two sides have started cooperation in the "three networks and industrialization". The Addis Ababa-Djibouti railway and Mombasa-Nairobi railway funded and undertaken by China will be completed next year and the year after next. They have become important early harvest projects. China has also over-delivered on its commitment of training 30,000 professional personnel and providing 18,000 government scholarships for Africa and helped build 21 cultural and vocational skills training facilities in Africa.
China-Africa cooperation in livelihood projects has made new headway. China has built five new agricultural technology demonstration centers in Africa, continued to send agricultural experts, and encouraged Chinese companies to invest more in agriculture in Africa. China sent 1,771 medical workers to 42 African countries, carried out "Brightness Action" campaign to provide free cataract treatment in 10 African countries, and helped Comoros become less vulnerable to malaria.
China has actively implemented China-Africa Science and Technology Partnership and the "science and technology for a better life" campaign in Africa, launched with some African countries joint research centers and labs, and put in place the Talented Young Scientist Program and other exchange mechanisms. China increased support for Africa in ecological and environmental protection, providing US$10 million in grants to Africa for wildlife protection, partnering with many African countries to crack down on ivory trafficking and other wildlife-related illegal trade. In February this year, China announced a temporary ban on the import of African ivory products acquired after the Convention on International Trade in Endangered Species of Wild Fauna and Flora entered in effect. China also funded the development of seven meteorological infrastructure projects, and nine forest protection programs in Africa.
China has actively supported African integration. The Chinese Mission to the African Union has formally started operation. AU Chairperson Nkosazana Dlamini-Zuma and Deputy Chairperson Erastus Mwencha visited China respectively. The two sides held two rounds of Strategic Dialogue and launched the sub-session on peace and security affairs under the frameworks. China continues to provide assistance to the AU and support the AU in capacity building and carrying out peacekeeping operations and counter-epidemic campaigns. China established the Joint Commission on Economy and Trade with ECOWAS and held consultations with the Secretariat of the East African Community and the ECOWAS Commission.