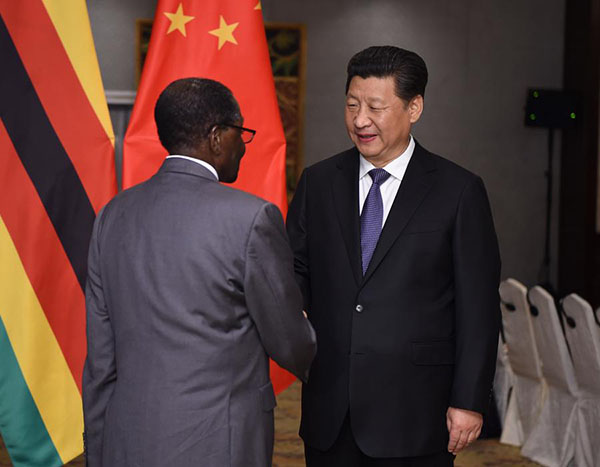 President Xi Jinping (R) meeting with Zimbabwean President Robert Mugabe in Jakarta, capital of Indonesia, April 23, 2015. [Photo/Xinhua]
President Xi Jinping will pay a state visit to Zimbabwe, a southern African country, from Dec 1 to 2."It is a new milestone for China-Zimbabwe relations," Huang Ping, Chinese ambassador to Zimbabwe, said on Nov 26.
First of all, ambassador Huang reviewed the history and present situation of friendship between China and Zimbabwe. He said, the two nations have been good friends, good fellows and good brothers, and their friendship had a time-honored history. At the early 1960s, while Zimbabwean people were seeking national independence and liberation, China had already provided selfless support. On April 18, 1980, the Independence Day of Zimbabwe, the two sides immediately established diplomatic relations with each other. After that, China and Zimbabwe have enjoyed frequent high-level exchanges. President Mugabe has visited China 11 times since Zimbabwe got its independence. Zimbabwe always adhered to a "One China" policy, and regarded China as an all-weather friend. And China has also spoken on Zimbabwe's behalf on many international occasions, including calling on the Western World to lift their sanctions against Zimbabwe.
Huang continued to say that China and Zimbabwe have helped each other, and got fruitful results by cooperation in national development. Now, China has been Zimbabwe's second largest trade partner and largest source of investments. Nearly all vital infrastructure projects in Zimbabwe are supported by Chinese financial institutions and built by Chinese enterprises. In the area of culture and humanities, both sides enjoy frequent cultural exchanges and have developed profound friendship. The common people in Zimbabwe are optimistic about the prospect of China-Zimbabwe relations. The craze for Mandarin learning in Zimbabwe is constantly growing. When Zimbabwean people meet Chinese people, they are used to saying "Ni Hao" for greetings.
Then, ambassador Huang introduced that last August, President Mugabe made a successful state visit to China, and reached consensus with President Xi on bilateral ties. And now, President Xi pays a return visit to Zimbabwe. It is the first time for a head of state of China to visit Zimbabwe in 20 years. As the only African country Xi visits on this trip, Zimbabwe is highly valued by China, and gives the highest ceremonial honor to president Xi.
"President Xi's visit to Zimbabwe is a new milestone for bilateral ties," Huang said. Nowadays, China and Zimbabwe are both in a vital development phase. Chinese dream and Zimbabwe's dream of national rejuvenation overlap to a large extent. Their friendly cooperation is witnessing even more good opportunities. We should work together for promoting the development of bilateral relations in an all-around way, and bring more benefits to both peoples.
The lack of energy and communication infrastructure is a bottleneck in Zimbabwe's economic development. Therefore, China and Zimbabwe will sign agreements on cooperation in such areas. Once these cooperative projects are completed, they will signifnicantly reduce the shortage of electric power and infrastructure in communication in Zimbabwe, and offer a strong impetus for the growth of Zimbabwe's economy. In addition, in agriculture, mining, telecommunications, tourism and other areas, both sides are also in healthy cooperation, and are working hard to further expand collaboration. With the fast development of mutual cooperation, Zimbabwean people will share more and more development dividends. At the same time, for Chinese people, we also could enjoy good agricultural and sideline products from Zimbabwe and have a fantastic tour there.