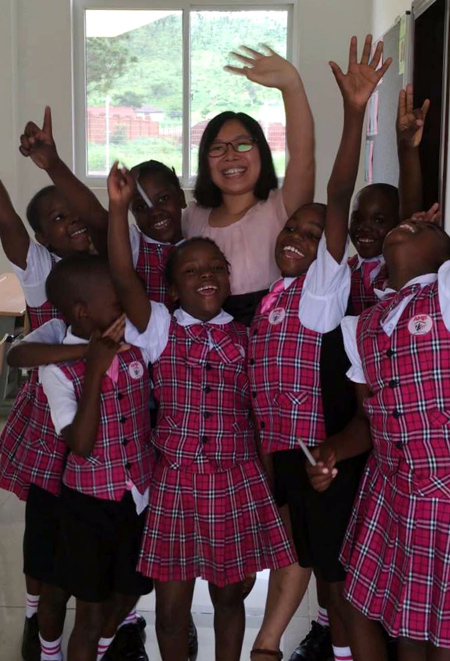 Hao Xin says her students at Amai Mugabe School are passionate about learning Mandarin. China Daily
The Chinese language is playing a greater role in Zimbabwe's basic education system and can advance cultural links and understanding, said education professionals.
At Amai Mugabe School in Harare, the capital of Zimbabwe, two educators from China are teaching Mandarin to the school's 128 students, who range from preschool age to the seventh grade.
One of the teachers, Hao Xin, said Chinese has become a popular choice.
Grace Mugabe, the first lady of Zimbabwe and also owner of the school, decided to learn Chinese in 2007 when she noticed the ever-strengthening ties between the two countries. She earned a bachelor's degree in Chinese from Renmin University of China in 2011, and while studying in Beijing, she learned a lot about Chinese culture and even became acquainted with traditional Chinese musical instruments.
Seeing the need for cultural exchanges between the two countries, Mugabe proposed that the Chinese government should send people to teach Chinese at her school.
Patrick Chitambo, the headmaster of the primary school, said the language will be very helpful to students in the future, since it can be used in many projects undertaken between the two countries as ties grow stronger.
"With more students choosing to go to China, learning this language since primary school will be a big advantage for them," he said. "When they finish learning Mandarin here, they will be well equipped with strong academic qualifications to proceed in their studies to upper degrees and even to China."
Hao said students at the school in Zimbabwe are enthusiastic and passionate about learning Mandarin.
"They are quite active in the class," she said.
By learning Chinese, misunderstandings will be reduced and cooperation will be improved, Hao said.
"China used to be a remote name to many of the students, but after learning Chinese, they have been accumulating their knowledge and understanding of the country, feeling closer to its culture," she added.