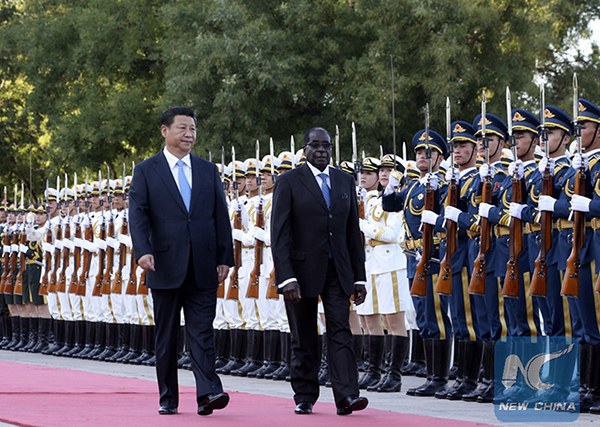 File photo of Chinese President Xi Jinping (L front) holding a welcome ceremony for Zimbabwean President Robert Mugabe in Beijing, China, Aug. 25, 2014. [Photo/Xinhua]
Zimbabwe expects closer collaboration with China in industrialization and an increased role for the renminbi in the market, says the country's ambassador to China, Paul Chikawa.
The two countries have enough in common industrially to be able to help each other, he says.
He made the remarks in an interview with China Daily before President Xi Jinping visits the country from Dec 1 to 2.
"Whether we are ready for industrialization is a complex question, because some of the infrastructure is still lacking, but it is a big yes in terms of our continuous commitment to this process," he says.
Although China is the world's second-largest economy in terms of GDP, Chikawa says the country is No 1 in the world in purchasing power parity, which has taken the country's industrialization to a stage where it has excess manufacturing capacity. That provides opportunities for the two countries to work together, he says.
"Zimbabwe used to enjoy an advantageous industrial position in the region, but later was curtailed for various reasons. Now China has strong development experience to share, and demand to export its excess capacity. We believe this can meet our ambition to revive industries."
China's financial capacity also provides a strong guarantee to its overseas expansion given its strong capital funding base, abundant foreign reserves and the increasingly important renminbi, he says.
He sees an increasing role for the currency in his country, helping maintain investment confidence and delivering convenience to the financial market.
Two countries just right for each other, says the envoy. "It is playing an important role in the international economy, and we want to see the same thing in Zimbabwe."
Chikawa says convergence between China and Zimbabwe is reflected in the draft plan of the Zimbabwean Agenda for Sustainable Social Economic Transformation, a set of policies on industrialization.
"The Chinese government has also drawn up an impressive and clear roadmap for relocating its industries by initiating the Belt and Road Initiative, as well as gaining support for the Asian Infrastructure Investment Bank. These conditions can nurture practical and concrete industrial cooperation."
China and Zimbabwe have a special relationship that has endured changes in the international political environment over the past 50 years, he says.
"It's not a relationship of exploitation but a relationship in which both sides are prepared to make the best use of each other's comparative advantages. We do not work as master and servant but as equal partners in a relationship of mutual respect."