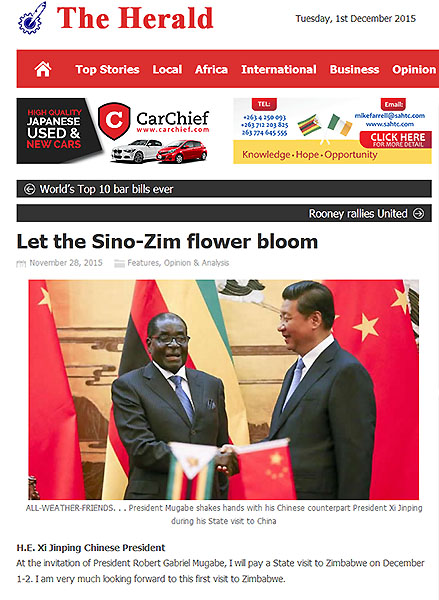 A screen grab shows President Xi's signed article on Zimbabwean newspaper The Herald.
HARARE - It remains a cornerstone of China's foreign policy to consolidate relations with Zimbabwe and other African nations despite the constant profound and complex changes in the international landscape, said Chinese President Xi Jinping in an article published on local newspaper.
China will work with Zimbabwe and all other friendly African nations to pave a broader and more solid road of mutual benefit and common development for China and Africa, the president said in the signed piece carried by Zimbabwean leading newspaper The Herald on Saturday.
The article went public as Xi is scheduled to pay a state visit to Zimbabwe from Tuesday to Wednesday at the invitation of his Zimbabwean counterpart, Robert Mugabe.
The article was also carried by The Sunday Mail, a popular family newspaper on Sunday.
"I am very much looking forward to this first visit of mine to Zimbabwe," Xi said. "Though I have not been to Zimbabwe, I am no stranger to this beautiful country and its people."
China and Zimbabwe, in spite of the vast distance, have maintained a traditional friendship that is deep and firm, the president said, noting the Chinese people steadfastly stood behind the Zimbabwean people as comrades in arms during the national liberation struggle in Zimbabwe.
The two countries established diplomatic relations on the very day that Zimbabwe gained independence, April 18, 1980, he said, adding that the two peoples have "stood with each other rain or shine," and enjoyed strong friendship and fruitful cooperation over the past 35 years.
China is now Zimbabwe's fourth largest trading partner and the biggest source of investment, while bilateral friendship has taken root and sprouted in the heart of the two peoples, Xi noted.
Agreement reached during President Mugabe's successful state visit to China in August last year has provided a vital guidance for the growth of bilateral relations, said Xi.