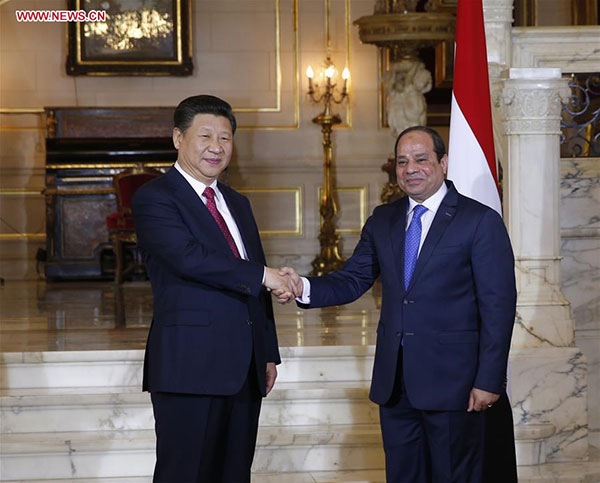 Chinese President Xi Jinping(L) holds talks with Egyptian President Abdel-Fattah al-Sisi at Quba Palace in Cairo, Egypt, Jan 21, 2016.[Photo/Xinhua]
China and Egypt enjoyed fast development in economic and trade cooperation in recent years. As China's proposals of jointly building the "Silk Road Economic Belt" and the "21st Century Maritime Silk Road" agree with Egypt's New Suez Canal economic corridor strategy, Egypt's wish for developing economy and China's economic restructuring create many opportunities for both countries to carry out infrastructure construction and capacity cooperation.
Under the overall background of weak global economic recovery in 2015, the volume of trade between China and Egypt still increased by over ten percent, and China has continuously been Egypt's largest trade partner in recent years. The two countries complement each other's advantages and have coordinated well in many fields, and there is huge cooperation potential for them in fields like economic and trade investment, energy and electric power, railway and transportation, port logistics and aerospace science and technology.
A few days ago, the correspondent of Guangming Daily visited the China-Egypt Suez Economic and Trade Cooperation Zone, which is near the Suez Canal and 120 kilometers away from Cairo, capital of Egypt. During President Xi Jinping's state visit to Egypt, he will, together with Egyptian President Abdel Fattah al-Sisi, unveil the nameplate of the second-stage project at the cooperation zone.
Located at the Suez Gulf with a total planned area of 9.12 square kilometers, the economic and trade cooperation zone is an international industrial base which mainly covers industrial projects including processing and manufacturing, logistics, protective tariff, technological development, commerce and trade and modern service as well as functional zones like residence zone, business zone and financial zones.
The second phase of the project will attract 150 enterprises and $2 trillion in investment, creating about 40,000 jobs for Egyptians, according to the project planning. As a significant part of "Belt and Road" and the core area of the Suez Canal Corridor, the cooperation zone is an epitome of the booming economic and trade cooperation between the two countries and plays an important role in deepening the cooperation.
Besides providing job opportunities, the cooperation zone also creates a cooperation model which fits local realistic demands. Egyptian managerial staff and workers are sent to China in batches for further study every year, and it has fostered a batch of good managers and technological workers in recent years.
As Egypt's industrial system remains incomplete and relies on the import of many industrial products and articles of everyday use, Chinese enterprises are paying increasing attention to the 80-million-people Egyptian market. Meanwhile, because Egypt has signed trade agreements with many countries in Europe, America, the Middle East, and Africa, products produced in Egypt can be exported to those countries and regions without tariff and quota restrictions.
In the past more than ten years, China and Egypt have constantly expanded two-way investment scale and carried out all-round cooperation in fields like industry, energy, telecom and infrastructure construction. Chinese enterprises have invested over $5 billion and created more than 10,000 jobs for local people.
Mi Guanghui, deputy secretary general of Egypt Chinese Stone Industry Association, said that there are over 130 Chinese stone material enterprises in Egypt, and stone material has become Egypt's second largest export to China, creating at least 3,000 job opportunities.
At present, as China's "Belt and Road" initiative has received active response from Egypt and other countries in the Middle East, Chinese stone material enterprises will carry out broader and deeper cooperation with Egypt in fields like infrastructure construction, cement and ceramic bath accessories.