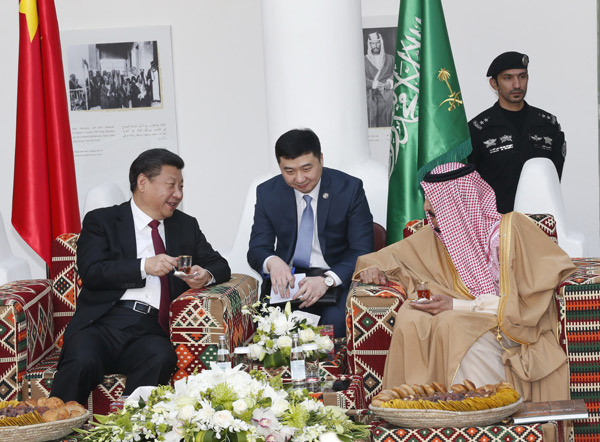 Chinese President Xi Jinping (L) and Saudi King Salman bin Abdulaziz Al Saud (R front) taste traditional Arab coffee during his visit to the Murabba' Palace, named after its square form of 400 by 400 meters in Riyadh, Saudi Arabia, Jan 20, 2016. [Photo/Xinhua]
RIYADH -- Chinese President Xi Jinping had a taste of traditional Arab culture Wednesday as he visited the historic Murabba' Palace in Riyadh and joined the local residents in dancing.
Accompanied by Saudi King Salman bin Abdulaziz Al Saud, Xi watched the performance of folk dances at the palace Wednesday morning. The two heads of state then joined in the dancing joyfully.
After tasting traditional Arab coffee and cuisine, Xi and Salman paid a visit to the exhibition hall of the life of King Abdul Aziz Ibn Saud, who founded the Kingdom of Saudi Arabia in 1932.
Xi lauded the efforts of the Saudi government and the diligence of the Saudi people for preserving time-honored cultural heritage while developing modern facilities in the kingdom.
He also reviewed his state visit to Saudi Arabia, saying that he was satisfied with the fruitful outcomes, including upgrading bilateral ties to a comprehensive partnership and establishing a high-level steering committee for coordinating bilateral cooperation.
The Murabba' Palace, named after its square form of 400 by 400 meters, was built by King Abdul Aziz Ibn Saud. Construction started in 1936 and was fully completed in 1945. The palace was intended to be a family residence and court for the king.
In the afternoon, Xi and Salman attended a ceremony at the King Abdullah Petroleum Studies and Research Center to remotely inaugurate the operation of the Yasref oil refinery, a joint venture between Saudi Aramco and China's Sinopec. It is also China's largest investment project in Saudi Arabia.
A full-conversion refinery covering 5.2 million square meters in the industrial city of Yanbu on the west coast of Saudi Arabia, Yasref plays a fundamental role in the future of Yanbu industries, the company said.
It is the first overseas refinery Sinopec has built. The two companies signed the agreement in early 2012 with a total investment of nearly $10 billion. Aramco holds 62.5 percent of the stock while Sinopec holds 37.5 percent.
Xi said that the energy cooperation between China and Saudi Arabia has brought tangible benefits to both peoples.
The launch of the refinery, he said, conforms to not only the Saudi national development strategy, but also China's strategy of carrying out cooperation with countries in the regions outlined in the China-proposed Belt and Road Initiative, a vision Xi put forward in 2013 to boost interconnectivity and common development along the ancient land and maritime Silk Roads.
The two sides still have many more joint projects, which will boost business and energy cooperation and promote comprehensive strategic partnership between the two countries, he added.