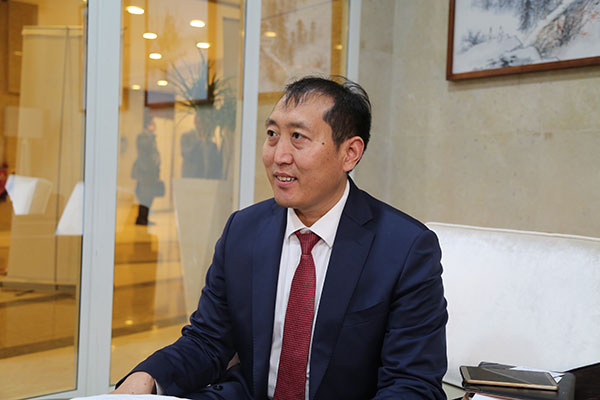 Li Xiangdong, head of Muyang Egypt. Photo provided to chinadaily.com.cn.
China's leading feed machinery manufacturer Muyang will make Egypt its base in Africa and the Middle East because of the country's great location and abundant labor. With its expertise in producing silo, it will help Africa solve the waste in storage and transportation by offering silo that could meet the needs of both African States and farmers, the company said.
Muyang Co Ltd, the largest Chinese feed machinery manufacturer by revenue, cooperating with the China-Africa Development Fund, established Muyang Egypt Industry S.A.E with a joint contribution of $74 million in the China-Egypt Suez Trade and Economy Cooperation Zone in March 2013.
The planned annual output of Muyang Egypt is 5 million tons of silo storage capacity, 6,000 tons of structure steel, 50 sets of feed machinery with an annual sales value of $150 million. And the operation of its first phase began in December 2015.
For the first phase of the company's project in Egypt, the company concentrates on the storage structures to solve the problem of great food waste in storage and transportation in Africa, Li said.
"While some countries are troubled by lack of food, there is great waste in storage and transportation due to lack of proper facilities. Even some food aid provided by the international community is wasted in the transportation process," he said.
While producing large storage structures for African governments, the company will also produce those with capacities of 100 tons or even 10 tons for African farmers to ensure that their harvest can be properly stored. These small storage structures will also go with drying facilities, he said.
Li Xiangdong, head of Muyang Egypt, said the company's decision to establish factories in Egypt is a response to the Chinese government's Belt and Road Initiative. "The Chinese government's preferential policies offer us a very good investment environment," he said.
He said the company's product can easily be transported to its markets in the Middle East and the whole African continent from the gulf of Suez and the cheap labor cost also reduces the cost, adding that the time saved in transportation improves the efficiency of engineering companies like Muyang.
houliqiang@chinadaily.com.cn