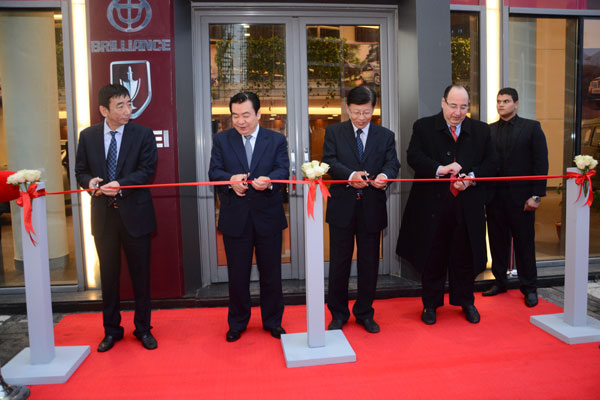 Bing Zhigang, vice-governor of Liaoning province (the second from the left), Han Bing, minister counselor for Economic Affairs, Embassy of China in Egypt, and representatives from Brilliance Auto and Bavarian Auto Group cut the ribbon for the new 4s shop of Brilliance Bavarian Auto in Dec 13, 2015.[Photo by Hou Liqiang/chinadaily.com.cn]
Chinese car producer and exporter Brilliance Auto Group will restart its assembly line in Egypt in 2016 in spite of challenges from foreign exchange control in the country, as Chinese government carries on the Belt and Road Initiative.
The company also said it will bring some of its spare parts suppliers to Egypt to establish factories in the near future to reduce cost and, with Egypt as a base, they would like to spread its market to other countries in North Africa and even the whole African continent.
Brilliance Auto established partnership with Egypt's Bavarian Auto Group in 2005 to assemble Brilliance's saloon and the assembly line was put into operation in 2006 but stopped later due to "unconquerable factors" in October 2009.
The company kept selling its products in Egypt by importing from China and it has sold a total of almost 30,000 cars in Egypt up to now, according to Zhang Xuecheng, managing director of Brilliance Bavarian Auto, a joined venture of Brilliance Auto and Bavarian Auto Group.
He said output capacity of the assemble line will be 10,000 at the beginning and it will increase to 30,000 in five to 10 years. There are limited spare parts manufacturers in Egypt and they don't produce many varieties. The company also plans to bring some of its spare parts suppliers to Egypt to reduce cost.
Zhang said the decision is made "based on market research in the last two years" and also because "Egypt is an important country in the Belt and Road Initiative" and "it is consistent with Chinese government's decision to relocate industries to Africa".
Egypt is a leading country in Africa with leading per capital GDP and its auto market is bigger than many other African countries. It can also be a good base to expand to other African countries, said Zhang.
There can be challenges as well. The biggest challenge the company faces is the foreign exchange control. The quota for the company to import is $50,000 a month, and this is far from enough. The company's capital flow can be cut as they fail to change Egyptian pounds into dollars and send that back to China, Zhang said.
There is a shortage of skilled labor in the country and the training cost can be high as turnover rate in Egypt is high, he said.