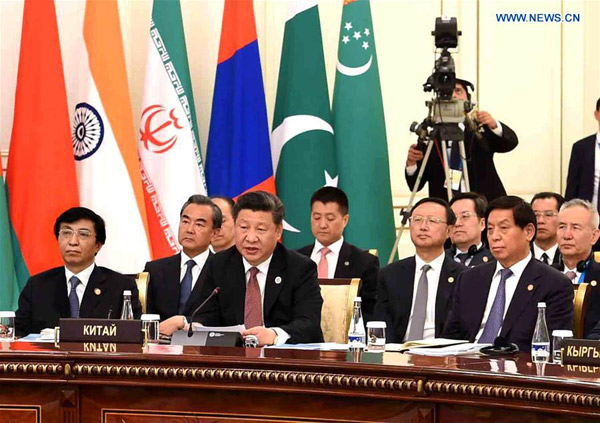 Chinese President Xi Jinping (C front) attends the 16th Shanghai Cooperation Organization (SCO) Council of Heads of State meeting in Tashkent, Uzbekistan, June 24, 2016. [Photo/Xinhua]
The six-member Shanghai Cooperation Organization approved memorandums on Friday to pave the way for India and Pakistan to join the organization.
Observers said the expansion would make the group more resilient in security and economic cooperation amid rising regional security concerns and gloomy global economic prospects.
In a speech at the meeting of the SCO Council of Heads of State in Tashkent, Uzbekistan, President Xi Jinping suggested the organization should remain open and inclusive in expanding its membership.
He also called for all involved to use the opportunity of the signing of memorandums of obligation for the two countries to expand and deepen cooperation in all areas.
Indian Prime Minister Narendra Modi said before the summit, "India is glad to be a member of the SCO and looks forward to fruitful outcomes, particularly in the field of economic cooperation through the SCO."
Pakistani President Mamnoon Hussain told Xi during their meeting on Thursday that his country expects to continue close cooperation with China, as well as within multilateral organizations such as the SCO, on the economy and security.
The memorandums of obligation list the requirements that the countries must meet before they are accepted by the SCO, said Sun Zhuangzhi, secretary-general of the SCO Research Center at the Chinese Academy of Social Sciences.