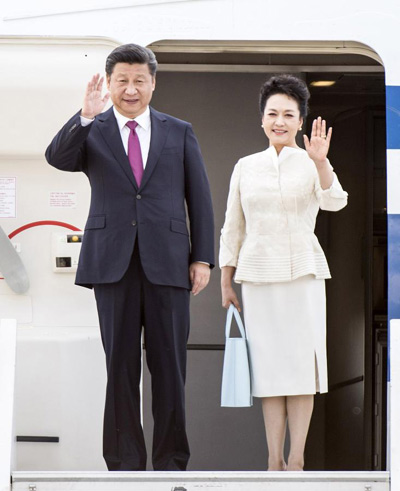 Chinese President Xi Jinping (L) and his wife Peng Liyuan wave as they arrive at the airport in Warsaw, Poland, June 19, 2016. Xi Jinping arrived in Warsaw Sunday for a state visit to Poland. [Photo/Xinhua] 
China and Poland set solid foundations to forge a synergy between the Belt and Road Initiative and the 2030 development strategy, as this Central European country is actively pushing economic diplomacy, said a senior Chinese official.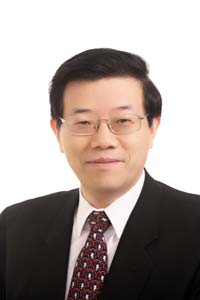 Li Wei, minister of Development Research Center of the State Council. Photo provided to China Daily
Li Wei, minister of Development Research Center of the State Council, a top think-tank for central government, made the remarks while his center is staging a two-day Silk Road Forum on the feasibility of mega-project cooperation between China and Poland during President Xi Jinping's state visit.
Xi is scheduled to address the opening of the forum while both China and Poland, which has announced a long-term strategy of economic growth and transport blueprint, have shown great interest in pursuing such synergy.
"China's Belt and Road Initiative has created vital opportunities for both sides to deepen trade and economic relationship and Poland's long-term development strategy has well echoed the initiative," said Li.
The Polish long-term strategy 2030 was aimed at achieving high-level modernity and President Xi came up with Belt and Road Initiative in 2013 to boost connectivity in Asia, Europe and Africa. The Silk Road Forum in Warsaw is the third one after being held in Istanbul and Madrid in 2014 and 2015 respectively.
In terms of Chinese-Polish economic relations, Li said China is an important investment destination and the biggest trade partner of Poland in Asia, while Poland is China's biggest trade partner and the most important investment destination in Central and East Europe.
"Right now, Poland has been greatly increasing its investment in infrastructural construction, which has brought tremendous opportunities for Chinese companies," said Li.
Historically labelled as the eastern gateway of Europe, Poland has already become an active participant of China's Belt and Road Initiative, said Li. And among all the freight railway expresses linking China and European countries, six of them will be entering their destinations via Poland.
President Xi is scheduled to attend a ceremony on Monday, at which which various freight lines between Chinese and European cities will be unified as a same brand "China Express", which has up to 10 days advantage compared with transport at sea.
Li said President Xi will further discuss with his Polish leaders deepening cooperation within Belt and Road framework and draw up a road-map of strengthening the bilateral relationship.
He said the initiative is being given top priority by China.
Li said the central government and all of the provinces, municipalities and autonomous regions have already mapped their own blueprint on how to materialize the Belt and Road Initiative.
Externally, Li said China has already signed agreements with more than 30 countries such as Mongolia and Kazakhstan to seek synergy for each other's major projects. Last year, China and Russia announcedthey would find ways pf linking the Belt and Road Initiative and the Russian-led Eurasian Economic Union, which consists of five countries so far.
China and the European Union have also signed an agreement to deepen cooperation between the Belt and Road Initiative and European Union's 315-billion-euro Investment Plan, known as the Juncker Plan.
"In implementing the Belt and Road Initiative, we have also made a lot of progress in infrastructural construction and trade and industrial park projects," said Li.
For example, the 770-km high-speed railway linking Moscow and Kazan, the Jakarta-Bandung high-speed railway and China-Laos railway are under construction and China has gained a big stake in the projects by offering technological solutions, financial sources and engineering experiences.
In Central and Eastern Europe, the construction of Hungary-Serbia railway was started last year and the Serbian section has been carried out by a consortium of Chinese companies led by China Railway.
Li said China has already entered into currency swap agreements with sixteen countries along the routes of Belt and Road Initiative. Apart from the Asia Infrastructural Investment Bank and Silk Road Fund, China has been working to set up joint financial vehicles with nations in Africa, the EU, Russia and other countries and organization.
"We are trying to sort out the problem of financial constraints," said Li.
Li also said China and 46 countries have already signed agreements to waive visa for each other's territories, and another 19 countries have agreed to issue visas on arrival for Chinese citizens.
"The measures have greatly facilitated people-to-people exchanges, traveling, economic cooperation and trade flows," said Li.
To contact the reporter: fujing@chinadaily.com.cn