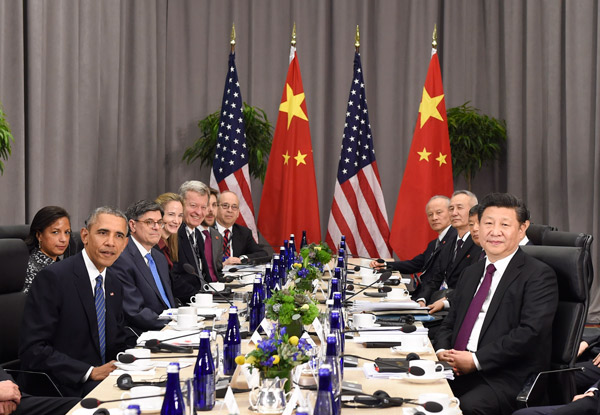 Chinese President Xi Jinping (1st R) meets with his US counterpart Barack Obama (1st L) on the sidelines of the fourth Nuclear Security Summit in Washington DC, the United States, March 31, 2016. [Photo/Xinhua]
China and the United States pledged on Thursday to step up their cooperation in nuclear security.
In a joint statement, the two countries said they will work together to foster a peaceful and stable international environment by reducing the threat of nuclear terrorism and strive for a more inclusive, coordinated, sustainable and robust global nuclear security architecture.
They applauded the successful completion of the first round of bilateral discussions on nuclear security on Feb 20 in Stockholm.
"We plan to continue this dialogue on an annual basis, so as to intensify our cooperation to prevent nuclear terrorism and continue advancing Nuclear Security Summit goals," the statement said.
The statement was released after a bilateral meeting between President Xi Jinping and President Barack Obama on the sidelines of the fourth Nuclear Security Summit aimed at preventing nuclear materials from falling into the hands of terrorists.
China and the US both played an important role in the P5+1 nuclear deal with Iran last summer and UN Security Council Resolution 2270 in early March on sanctioning the Democratic People's Republic of Korea for its nuclear bomb and missile tests.
Xu Dazhe, chairman of China Atomic Energy Authority, said on Thursday that China will continue to expand cooperation in nuclear security with the US and other nations.
He mentioned multiple times the March 18 opening in Beijing of the Nuclear Security Center of Excellence, a state-of-the-art joint training project between China and the US.
"We will turn the center into a platform for international exchange, a platform for technological research as well as a platform for improving China's capabilities in nuclear security," Xu said.
China will promote cooperation with other countries, the International Atomic Energy Agency and other relevant international organizations to contribute to enhancing nuclear security in the Asia Pacific region and the world, according to Xu.
Li Wei, deputy chief of the Department of Customs Control and Inspection of China Customs, applauded the China Customs Radiation Detection Training Center that opened in 2012. The joint program between China and the US, inked in 2011 under then President Hu Jintao, signaled new progress between the two countries in preventing and fighting nuclear terrorism and threats, he said.
The center, located in Qinhuangdao, a coastal city in Hebei province, trains not only Chinese, but also professionals from other Asia-Pacific nations and regions.
China and the US have also cooperated in installing radiation detection devices in mega ports such as the Yangshan Port of Shanghai.
Li said the Yangshan project, the ownership and maintenance of which the US turned over to the Chinese side in January, has been praised by both sides as exemplary and applicable all over the world.
chenweihua@chinadailyusa.com