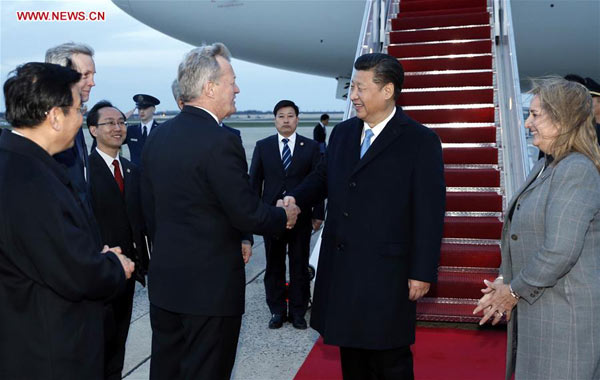 Chinese President Xi Jinping (2nd R) arrives for the fourth Nuclear Security Summit in Washington, the United States, March 30, 2016. [Photo/Xinhua]
WASHINGTON - Chinese President Xi Jinping arrived here on Wednesday for the fourth Nuclear Security Summit (NSS) in a sign of his country's firm commitment and constructive approach to safeguarding radioactive materials around the world.
Xi, who also attended the third NSS in The Hague in 2014, is scheduled to address the opening plenary on Friday to expound Beijing's nuclear security policy, present China's new measures and achievements in the area and put forth a set of practical proposals on further beefing up global nuclear security.
On the sidelines of the summit, Xi is expected to meet with US President Barack Obama on Thursday for their first rendezvous so far this year to promote China-US relationship, one of the most important bilateral ties in the world, and confer with other national leaders on issues of common concern.
The NSS, a biennial event initiated by Obama, will this year draw together leaders and envoys from 52 countries and four international organizations, who will focus on advancing tangible improvements in nuclear security behavior and strengthening the global nuclear security architecture, according to the official website of the 2016 summit.
At a press briefing last week, Chinese Vice Foreign Minister Li Baodong said Beijing hopes that the summit will continuously consolidate the international consensus on nuclear security, advance national capacity-building, boost international cooperation and foster a global nuclear security culture.
China, Li added, will work with all parties concerned to ensure the success of the Washington summit and establish an international nuclear security system featuring fairness, cooperation and win-win results.
The Chinese president arrived in Washington from Prague after his state visit to the Czech Republic, the first by a Chinese head of state in 67 years since the two countries established diplomatic ties.