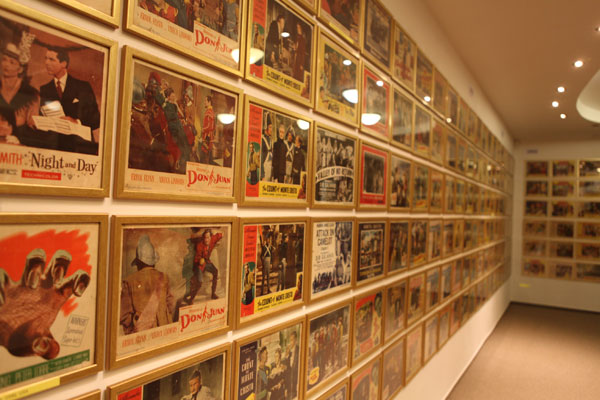 The gallery includes film posters from the Golden Age of Hollywood. [Photo by Fu Jing/chinadaily.com.cn]
Chinese tourists who love film are especially welcome at Gallery Spectrum in downtown Prague, which has more than 1,000 posters, many from the Golden Age of Hollywood.
The gallery has exhibited 1,200 original movie posters spanning the years 1936-1961 and is designed for families, pupils, students, foreigners and Czech tourists.
"Now, we are trying to attract more and more Chinese visitors, as many Chinese tourists are flocking into Prague," said Petra Paroubek, the gallery's senior consultant.
Paroubek said the upcoming visit of President Xi Jinping will make Prague even more attractive to Chinese and she believes more and more Chinese tourists will visit Prague and the Czech Republic.
"And we believe many Chinese tourists are moviegoers and they would like to have a look these original posters," she said.
Paroubek also said that her team is contacting tourism agencies to introduce the gallery. At the same time, they are developing Chinese-language products, such as posters and Chinese-version websites.
The gallery has a unique collection from Hollywood's Golden Age and European movies, Paroubek said.Big stars such as Marlon Brando, John Wayne, Sophia Loren, Marlene Dietrich, Alain Delon and Jean Gabin are among those featured.
"Visitors can get a copy of a poster or have it printed on a T shirt," she said.
There also are wax figures of World War II leaders on display, which were hand made in the 1950s and 1960s. "All the items exhibited here come from a private collection," Paroubek said.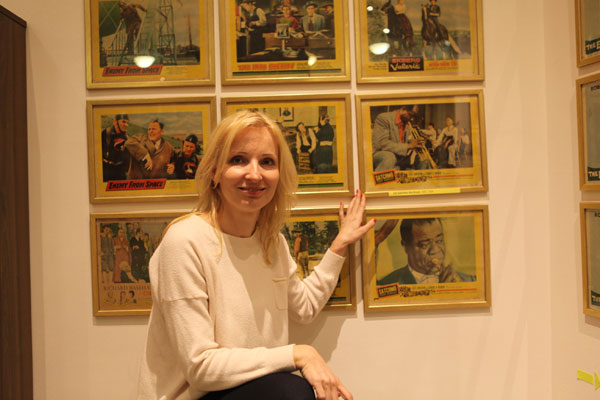 Petra Paroubek is consultant to the movie poster gallery.. [Photo by Fu Jing/chinadaily,.com.cn]