As China and the Czech Republic prepare some large-scale sports diplomacy, top ice hockey coach Slavomir Lener still remembers his "crazy but great" time teaching in temperatures of -30 C in Northeast China two decades ago.
Lener, general manager of the Czech men's national team, spent about six months in 1995 coaching China's national squad and says he had never experienced such conditions in his homeland, where football and hockey reign supreme.
Although he hasn't visited China since, he says he feels excited about young Chinese players coming to Prague as part of the run-up to 2022 Winter Olympics, which will be staged in Beijing and partner city Zhangjiakou in neighboring Hebei province.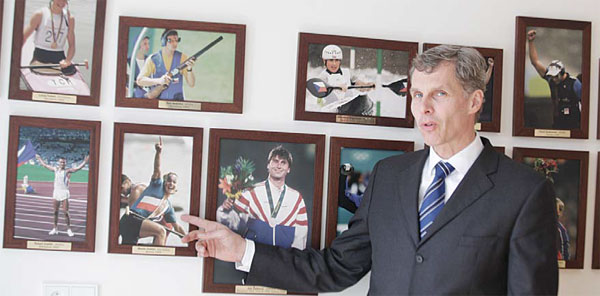 Jiri Kejval, president of the Czech Olympics Committee, says sport is about friendship.
Twenty players will take part in an eight-day coaching session in Prague starting March 24 and will play in three exhibition games.
"We're going to train their sense of hockey, as this is a game for 10 people, not individuals," Lener says at the Czech Ice Hockey Association headquarters. "This is the beginning, and we will see if the cooperation will continue after this training."
Going on past experience, he adds, the Chinese players will be focused, eager to learn and competitive.
The training coincides with Xi Jinping's state visit to the Czech Republic from March 28 to 30. The Chinese president recently chaired a meeting on preparations for the 2022 Winter Olympics.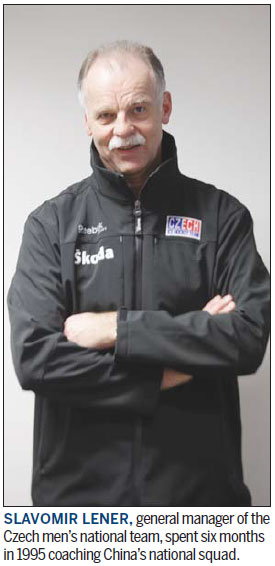 Czech President Milos Zeman, who visited China in September, and Prime Minister Bohuslav Sobotka, who visited in November, have both discussed sports cooperation with Chinese leaders.
In November, Liu Peng, president of the Chinese Olympic Committee, visited Prague to learn from the Czech Republic's winter sports set-up and its experience in organizing events.
It is likely the countries will announce plans to further collaborate in sport during Xi's visit.
"During the visit, young football players (from both nations) will also compete," says Jiri Kejval, president of the Czech Olympics Committee. "Sport is about friendship. This is preparation, and we know that China will not only organize a Winter Olympics, but also will participate in it."
He says his country is ready to help China catch up in the run-up to the Games.
China is currently 38th in the world ice hockey rankings and will only be able to take part in the 2022 Olympics if it makes it into the top 18.
Kejval is confident his coaches are qualified to help achieve this. Back in the 1950s, Czech coaches taught Russian players, and now they are among the best in the world, he says.
"I'm 100 percent sure China can produce highly competitive hockey players despite the fact team sports are more difficult than individual sports," he says.
China has made tremendous progress in sports and event organization, and the 2008 Beijing Olympics Games were "spectacular", he says. "Now (the country) has started to shift to winter sports, which has brought a lot of opportunities for us to start cooperation."
However, he adds, it is not only a case of China learning from the Czechs, but also the other way round.
"We can learn from China in volleyball, table tennis and other sports," he says.
fujing@chinadaily.com.cn