Me and my big mouth. Picture this: The weekly news planning meeting at China Daily's London office is well underway, and the subject of President Xi Jinping's forthcoming state visit to the Czech Republic is under discussion.
Amid all the talk of business and diplomacy, someone mentions moles. Don't ask me why, but I chose that moment to wax lyrical about the Eastern European country's best-known export: the art of the animated cartoon.
Thus I allowed myself to be persuaded to tackle moles and pandas in this column.
Until then, I hadn't heard of Krtecek, also known as the Little Mole. I have now.
Turns out he's joining forces with a panda in a cartoon series jointly produced by Krtecek's owners in Prague and China Central Television, with the first episode already seen by Chinese Vice-Premier Liu Yandong and Czech President Milos Zeman at a special showing in Prague last year.
Panda diplomacy is nothing new to China. Over the years the cuddly black and white animals have built bridges and cemented international relations, guaranteeing instant news coverage for any world leader or celebrity wanting to get up close and personal.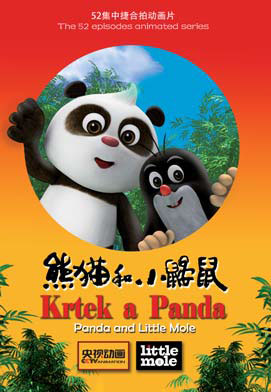 There's nothing nasty about a bamboo-chewing playful bundle of black and white fur.
This time, pandas are being called to duty to strengthen the bridge of friendship between China and the Czech Republic, albeit in cartoon form.
So let's go back and take a closer look at the panda's partner on this cartoon voyage, the Little Mole.
He was the brainchild of Zdenek Miler, a noted animator and illustrator. Back in the 1950s, Miler was asked by his employer to make an animated educational film for children, but he wasn't happy with the script he was offered. He noted how Walt Disney in the United States had scored a major success by using animals in human situations. That's called, I discover, anthropomorphism. Not a lot of people know that.
Thus the Little Mole was born, starring in his first animated film, How the Mole Got His Trousers, which won the coveted Silver Lion Award at the Venice Film Festival in 1957.
From then on, there was no stopping him. He starred in some 50 films and is now seen in more than 80 countries. He's been a staple for kids in China since CCTV introduced him in the 1980s, building on his success in Eastern Europe.
Pandas, as we know, have earned their reputation in the world of diplomacy.
So there's a kind of inevitability about the panda and the Little Mole joining forces.
In the new series, the Little Mole and the panda meet up in Europe, and travel by rocket to China, where most of the series will be set.
There are 52 episodes of 10 minutes duration planned, with the story lines planned out by CCTV scriptwriters.
The genius of the original series is that apart from the first film, all the others are dialogue-free (apart from the odd exclamations which really don't need translation), which makes it almost a no-brainer for TV industry buyers the world over to acquire the series.
Miler would religiously test out each film on his daughters to make sure he had gauged the attraction for children.
Miler himself gave up making films in 2001, after the last movie, The Mole and the Small Frog. He died in Prague in 2011, two months before his 91st birthday.
In a world dominated by Hollywood offerings from Disney and others, Mole movies stand out as original and gently humorous.
My grandchildren are now just past the age when they can appreciate the subtle humor of the Mole movies. But I'm not.
The author is managing editor of China Daily Europe. Contact the writer through chris@mail.chinadailyuk.com